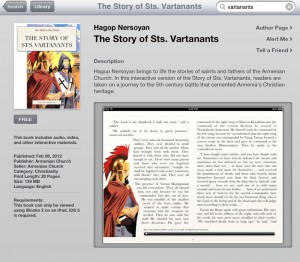 NEW York — The Eastern Diocese of the Armenian Church of America has released the first-ever Armenian Church iBook designed for the iPad. In this dynamic publication, Hagop Nersoyan's "The Story of Sts. Vartanants" is brought to life on the iPad with interactive features, including photo galleries, video and audio recordings, a glossary, and more.
Users can brose images of historic maps, listen to St. Vartan and St. Ghevont's stirring speeches, look up new terms, and highlight their favorite passages as they read about the Battle of Avarayr. This compelling digital book invites readers to revisit St. Vartan's stand against the Persian army in defense of Armenia's existence as a Christian nation. Visit the iBookstore to download the free book.
The iBook is the latest in a series of digital efforts at the Eastern Diocese. It complements the Diocese's popular mobile phone application, Vemkar, which is available for free download on the iPhone and Android platforms.
To learn more about the Eastern Diocese, visit www.armenianchurch-ed.net.