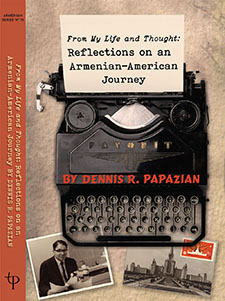 FRESNO — Dr. Dennis Papazian, Professor Emeritus of History and founding Director of the Armenian Research Center at the University of Michigan, Dearborn, will speak on "Dr. Dennis Papazian: Reflections on an Armenian-American Journey" at 7:00PM on Thursday, February 23, 2023, in the University Business Center, Alice Peters Auditorium, on the Fresno State campus. The event is organized by the Armenian Studies Program at Fresno State and co-sponsored by the Knights and Daughters of Vartan and is free and open to the public.
Dr. Dennis Papazian's memoir From My Life and Thought: Reflections on an Armenian-American Journey was published in 2022 by the Armenian Series of the Press at California State University, Fresno.
According to writer Michael Bobelian, "this memoir provides readers with a much-needed front-row seat of the post-genocide twentieth century Armenian-American experience. Dr. Papazian's account of the changes endured by the Armenian-American community in the period offers a behind-the-scenes look at some of the leading institutions and individuals of his generation: Alex Manoogian, William Saroyan, and the Catholicos all make appearances in these pages. What makes Dr. Papazian so atypical is the different hats he wore. As a scholar, community leader, and spokesperson, Dr. Papazian served the Armenian-American community in myriad ways: participating in academic organizations, speaking to the press, lobbying politicians, delivering speeches, doling out grants, and so much more."
In his talk Dr. Papazian will share his reflections on a quintessentially twentieth-century American life shaped by the challenges of the immigrant experience, his family's struggle to create a life in a new land, and his determined efforts to secure an education that would ensure a life of security and the promise of the American dream.
Dr. Papazian became a key leader in the emergence of an Armenian-American community just finding its footing fifty years after the 1915 Armenian Genocide, where he made significant contributions to multiple Armenian community, religious, academic and political institutions. His story is told with humor and wit and is one that will inspire readers of all generations and backgrounds and give hope to all who join him on his journey.
From My Life and Thought: Reflections on an Armenian-American Journey will be on sale at the presentation.
The lecture is free and open to the public. Parking is available in Fresno State Lots P6, near the University Business Center, Fresno State. A parking pass is required for the event and free parking code may be obtained through the Armenian Studies Program.
The presentation will also be live-streamed on YouTube at: https://bit.ly/armenianstudiesyoutube.
For information about upcoming Armenian Studies Program presentations, please follow us on our Facebook page, @ArmenianStudiesFresnoState or at the Program website, https://cah.fresnostate.edu/armenianstudies/index.html.