DUBROVNIK — On July 8, Ararat Mirzoyan, the Minister of Foreign Affairs of Armenia, took part in the panel discussion "World Order out of Order: How to Stabilized World Politics?" within the framework of the Dubrovnik Forum.
Touching upon the partnership between Armenia and the EU, Minister Mirzoyan noted, "Right now, Armenia is in the middle of democratic reforms – very large-scale democratic reforms – strengthening democratic institutions, a high level of human rights protection, an independent judiciary, etc. This brings the European Union closer to Armenia and Armenia closer to the EU. It is no surprise that we are also trying to explore new horizons in terms of cooperation or deepening relations between the EU and Armenia in various fields, including the security dimension. We had the first-ever session of the Armenia-EU political and security dialogue."
Ararat Mirzoyan presented the security situation in the South Caucasus, the humanitarian crisis in Nagorno-Karabakh resulting from the illegal blockade of the Lachin corridor. He emphasized that there is a real threat of ethnic cleansing by Azerbaijan in Nagorno-Karabakh and the imperative to address the issues of rights and security of the Armenian population of Nagorno-Karabakh.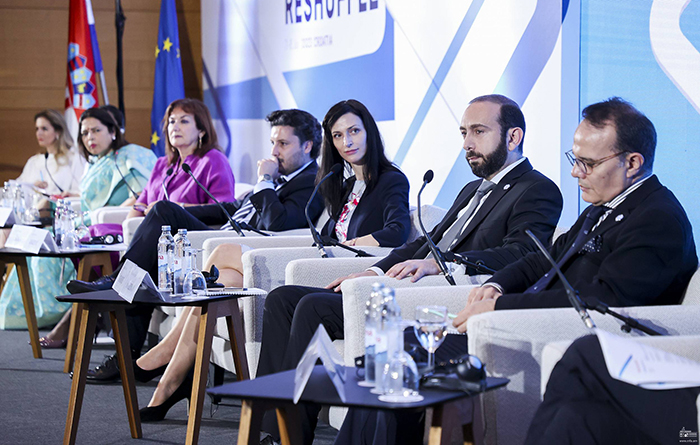 "It is not even a blockade; it is a siege of Nagorno-Karabakh"
"I cannot restrict myself to speaking only about what is going on in Armenia because of the security dimension. It also encompasses some topics connected with what's going on around Armenia, what's going on in the South Caucasus. Since we are speaking about disorder, I should also make a couple of remarks on the external threats and challenges that Armenia is facing now. You are now speaking about world disorder and violation of international law, international rules. Well, we have been speaking about this since 2020 when the war of aggression initiated by Azerbaijan began in Nagorno-Karabakh. We have been speaking about this very loudly, but few countries in the world were listening to us, and now everybody is facing a bigger problem. We have been speaking about our problem being a part of a larger problem, a larger process of the violation of international order, and now everybody is facing it. We have had several invasions into the sovereign territory of the Republic of Armenia, and here I would like to express our appreciation that the European Union made a very quick, very rapid decision, which was, by the way, quite unusual, probably, for the EU. So, the EU made a very quick decision to send an observation mission to patrol, to observe the situation along the international border between Armenia and Azerbaijan, our eastern neighbor. And the European observers are now there, and they are doing their job. This is a significant factor of stabilization on the border between Armenia and Azerbaijan. And we are thankful for that."
"But this is only a part of the problem; there is also the problem of rights and security of the Armenian people living in Nagorno-Karabakh. And I think we cannot pretend, we cannot close our eyes and pretend that there is no problem there. There is a problem there, and this is not only Armenia's problem; this is also everybody's problem."
"People living in Nagorno-Karabakh are facing a threat of real ethnic cleansing, a real genocide. If the world order which we are speaking about and which we are dreaming of is based on values, then humanity has a chance."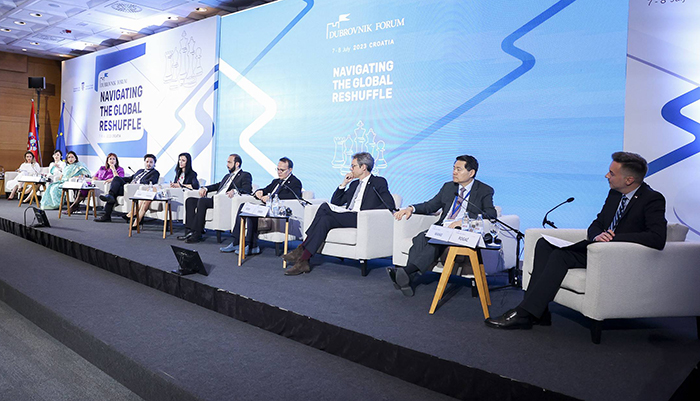 "If this is about values, then you cannot avoid dealing with this problem because, once again, we speak about human lives. And politics is about making human lives better. So, this is a difficult situation, but this is a situation that we shall deal with. First of all, acknowledge; secondly, make better efforts, bigger efforts to prevent it because there is a chance to prevent the ethnic cleansing in Nagorno-Karabakh."
"We are engaged in negotiations; we are trying to find some solutions, although negotiations and peace are very much like a tango, the dance. To dance tango, you need the second partner to dance with you. So, to make peace, you also need your neighbor willing to make peace, lasting peace. You can start a war by yourself, but you cannot have lasting peace only by yourself, unfortunately. So, we are engaged in good faith in negotiations, but during the negotiations and on the ground, we still face threats of the use of force, we face real use of force, we see the blockade."
"It is not even a blockade; it is a siege of Nagorno-Karabakh: there is no food, there is no medicine going to Nagorno-Karabakh for already quite a long time. People are under siege. And this is a problem that, unfortunately, cannot be solved only by ourselves; we need help. I believe that everybody has or should have their own part of responsibility. Again, if we want to live in order, not in chaos."
Within the framework of the Dubrovnik Forum, Ararat Mirzoyan also had a number of conversations with colleagues participating in the event.