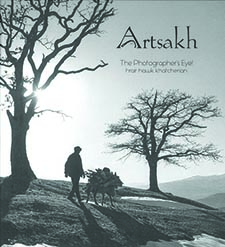 FRESNO — Internationally-renowned photographer Hrair Hawk Khatcherian will speak on his new book "Artsakh: The Photographer's Eye!" at 7:00PM on Friday, February 3, 2023, in the University Business Center, Alice Peters Auditorium, on the Fresno State campus. The event is organized by the Armenian Studies Program at Fresno State and co-sponsored by the Armenian General Benevolent Union, Greater Fresno Chapter.
Since 1992, Hrair Hawk Khatcherian has been capturing the eternal images of Artsakh (Mountainous Karabakh) which he shares with his readers in his book, Artsakh: The Photographer's Eye! His travels started in 1988, with his involvement and participation in various Armenian diaspora activities related to the Karabakh Movement. Inspired by curiosity, he travelled to Artsakh regularly from 1992 until and including the year when the first conflict started, till 2020.
His travels to his ancestral lands allowed him to study its history, focusing on its culture, its people, its nature, and the sacred mountains of the region.
This book is a recap of stunning photographs, in black and white, as well as, in color. They say and represent everything that needs to be said. An approach to keep the Artsakh region with us for eternity.
Hrair Hawk Khatcherian was born in Lebanon in 1961. In 1982, he earned his wings as a commercial pilot in Hayward, California. He moved to Canada in 1984, working as a freelance photojournalist in Toronto. He moved in 1985 to Montreal where he works for the Paris, France, Gamma press agency. In 1988, he actively participated in various activities of the Armenian Diaspora related to the Movement of Artsakh (Karabakh).
Hawk's first trip to Armenia was in 1992. In 1993 he was told that he had terminal cancer, but survived mainly due to his personal character. Dynamic, hyperactive, combative, determined, optimistic and constantly enthusiastic.
Ever since that crucial year, Hawk lives for and by Armenia, Artsakh and all the fundamental references, values and fundamental benchmarks of the Armenian world.
For almost three decades now, Hawk has been presenting exhibitions, conferences, photographic lectures all around the globe, making Artsakh, Armenia and Western Armenia an accessible reality for all. His photographs have appeared in numerous magazines, newspapers, books and publications. He has reached the top of the biblical mountain Ararat, the sacred symbol of Armenians, and in that mythical place he has solemnly renewed his commitment and his oath, to pursue his work relentlessly.
A selection of Hrair's books will be on sale at the lecture including, Artsakh: The Photographer's Eye!, Armenia: Heaven on Earth, and 100 (1915-2015).
The lecture is free and open to the public. Parking is available in Fresno State Lots P6 and P5, near the University Business Center, Fresno State. A parking pass is not required for the Friday evening presentation.
The presentation will also be live-streamed on YouTube at: https://bit.ly/armenianstudiesyoutube.
For information about upcoming Armenian Studies Program presentations, please follow us on our Facebook page, @ArmenianStudiesFresnoState or at the Program website, https://cah.fresnostate.edu/armenianstudies/index.html.