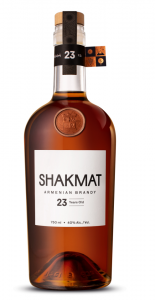 YEREVAN — Reddit and Initialized Capital co-founder Alexis Ohanian has announced the launch of new brand of Armenian brandy, Shakmat.
According to Ohanian, the first batch will contain 2400 bottles and be sold EUR 100 per bottle. A part of profits will be allocated to Armenia Tree Project, which has planted over 5.5 million trees all over Armenia.
"Shakmat 23 Year Old is a premium brandy originating from the birthplace of winemaking. It is an embodiment of Armenia's two national treasures – Chess and brandy. The time has come for Armenian brandy to reclaim its rightful place on the World Spirits map," emphasized Ohanian.
He visited Armenia with a team to find the right flavors for the new brandy.
"Shakmat (or shakhmat) is the Armenian word for chess. But our Shakmat is so much more than a game. It is a symbol; a symbol of life, persistence, patience, and wisdom of a people that do not fall, even when held in check," concluded Ohanian.
"Shakmat is a big deal in Armenia – it's a compulsory part of the school curriculum," Ohanian explained. "To be a great chess player, you need smart moves in the right moment, patience, knowledge, and resourcefulness. These are values that resonated with me, especially as an entrepreneur who looks for these qualities when I'm meeting with founders and determining if we at Initialized Capital should invest in their new venture."
The Brooklyn born Ohanian is the great-grandson of refugees from the Armenian Genocide in the early twentieth century. While visiting his ancestral home in 2010, he discovered the joys of the local distillate.
"Armenian brandy is something Armenians are really proud of, but outside of Armenia and the Armenian community, no one really knows it, which is a real shame – i't's legendary," he said in a statement.
Ohanian's partner Flaviar is a spirits club that fuses mail-order sales, curation, and education. The company also began branching out into private bottling recently.