LOS ANGELES — In an annual telethon broadcast from Los Angeles, Hayastan All-Armenian Fund has raised more than $11 million that will mostly be spent on its ongoing infrastructure projects in Nagorno-Karabakh.
As always, the Thanksgiving Day telethon featured prominent members of the Armenian community in the United States and Karabakh Armenian leaders. It was broadcast by Armenian and U.S.-Armenian TV channels.
Prime Minister Nikol Pashinian made a live televised appeal to Armenians around the world when he visited the Fund's headquarters in Yerevan early on Friday. He urged them to donate more funds to the charity, stressing the importance of its projects implemented in Armenia and Karabakh.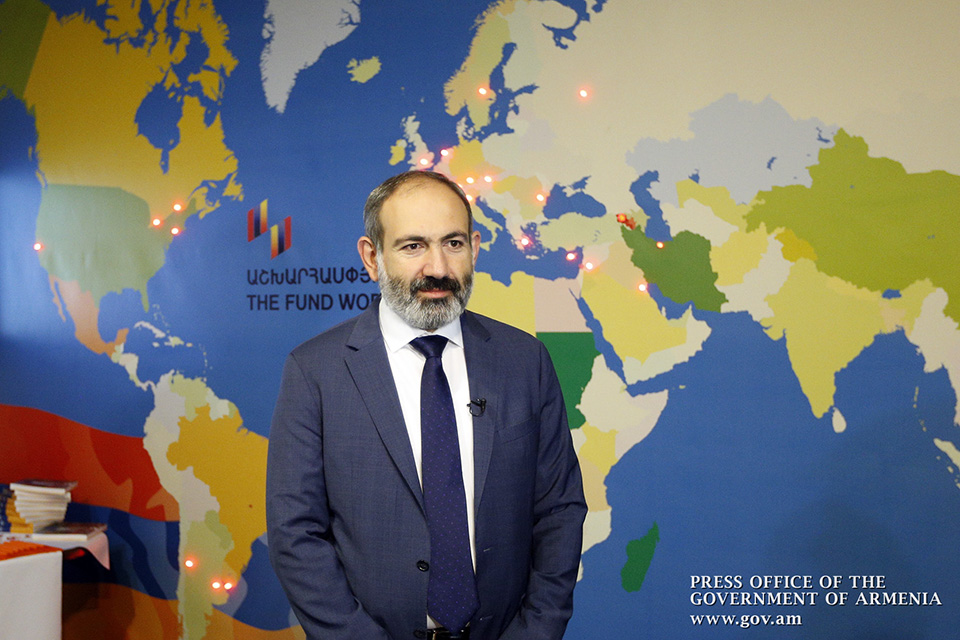 In a statement issued shortly afterwards, Armenia Fund  said the sum collected by it this time includes $2.5 million donated by a "benefactor" who did not want to be identified. Two other wealthy donors, Armenian-American businessmen Antranig Baghdassarian and Albert Boyajian, contributed $1 million each.
Most of the latest donations will be channeled into two projects in Karabakh launched by Armenia Fund   last year. One of them is aimed at expanding local irrigation networks while the other seeks to support greater use of solar energy by Karabakh households.
Armenia Fund  has implemented over $350 million worth of projects in Karabakh and Armenia since being set up in 1992. The fund's current Board of Trustees is headed by Armenia's President Armen Sarkissian and comprises Pashinian, other senior Armenian state officials, Catholicos Garegin II as well as prominent members of Armenian communities around the world.
In recent years the fund has partly financed, among other things, the construction of a second highway connecting Nagorno-Karabakh to Armenia. The 116-kilometer-long road was inaugurated last year.
Armenia Fund's activities were overshadowed in July by the arrest and ensuing resignation of its then executive director, Ara Vartanian. Although Vartanian admitted using Armenia Fund 's money for online gambling and other "personal purposes" he avoided prosecution after reportedly compensating the charity.
Pashinian's government has since pledged to help ensure greater transparency in the fund's activities.
The Hayastan All-Armenian Fund received $12.5 million and $15.5 million in donations during similar fundraisers helds in 2017 and 2016 respectively.