BEVERLY HILLS — The Ladies Auxiliary of the Western Diocese under the auspices of His Eminence Archbishop Hovnan Derderian, hosted a celebration banquet on September 23, 2018 honoring former Primate, His Eminence Archbishop Vatche Hovsepian and "his Ladies" who worked with him in building the Western Diocese. Aptly titled "A Legacy of Love," this special occasion, which began with a reception and was followed by a luncheon and program, was held at the prestigious Beverly Hills Hotel. The event reflected on Archbishop Hovsepian's initiative in establishing the Ladies Auxiliary following his arrival in Los Angeles as Primate in 1971.
The invocation was delivered by Rev. Fr. Vazken Movsesian. Introductory and welcoming remarks were made by Ladies Auxiliary Chair Mrs. Cindy Norian and were followed by recollections of the Primacy of Archbishop Vatche Hovsepian by Mr. Bob Simonian, Mr. Bob Barsam. The guests enjoyed the musical performances of soloist Karin Sue Mushegain who was accompanied by Lina Zoolalian on the piano. Remarks were also delivered by the honoree's nephew Mr.Vartan Hovsepian.
In his remarks, Diocesan Primate Archbishop Hovnan Derderian reflected on the importance of the founding of the Ladies Auxiliary by H.E. Abp. Hovnan Derderian. "Founded forty years ago and functioning as the only Diocesan committee, the Ladies Auxiliary has played a tremendous role in the overall prosperity of the Western Diocese. Dear Brother in Christ, we are confident that you and the founding members of the Ladies Auxiliary will find it comforting in knowing that more than 30 auxiliary committees presently operate at the Western Diocese and they continue to carry on the missions established by Your Eminence and former Diocesan Primates," stated Archbishop Derderian.
Archbishop Vatche Hovsepian extended his gratitude to the Ladies Auxiliary for the wonderful initiative and requested all guests to remember in their prayers the departed souls of the founding members of the Ladies Auxiliary.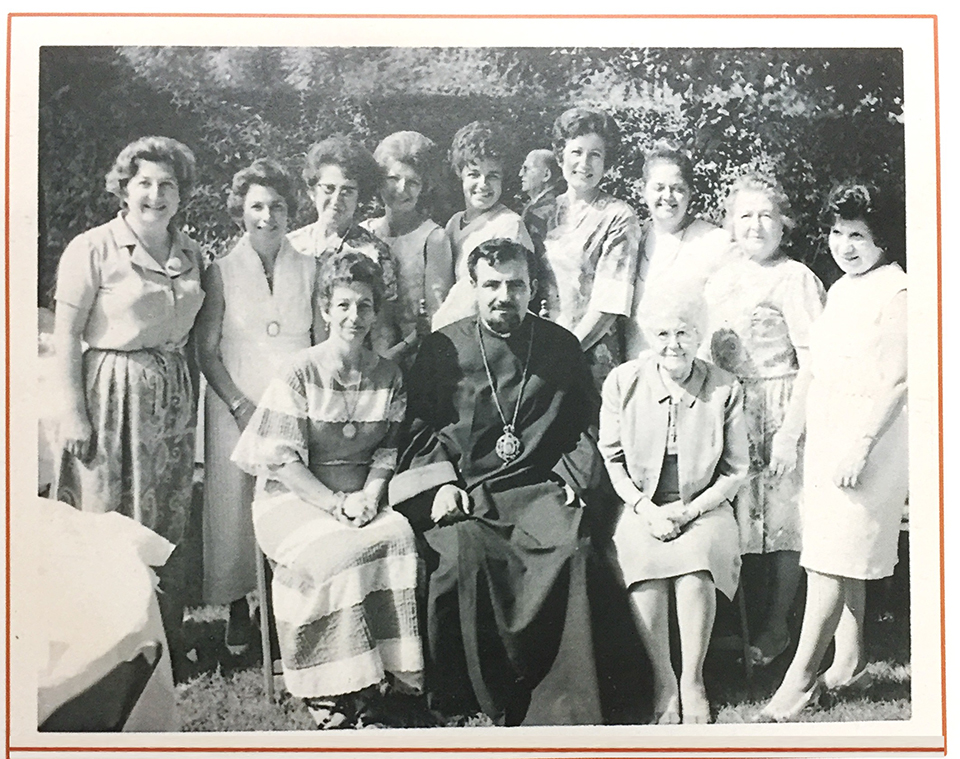 Primacy of Archbishop Vatche Hovsepian (1971 – 2003)
At that time of Archbishop Vatche Hovsepian's arrival in Los Angeles, the Diocese was centered on Crenshaw Boulevard and consisted of a small office with two run down typewriters. To quote Archbishop Hovsepian as he remembers "It looks as though the typewriters had been left over from Noah's time."
Soon after his assumption as Primate, he sensed the needs of the church and community and eventually purchased the church at 1201 North Vine Street in Hollywood and a 12-unit apartment building next door. This church building served as Diocesan Headquarters for many years. Following the devastating Northridge Earthquake in 1994, they were forced to evacuate and took coverage in the Sunday school rooms of St. Gregory Armenian Church in Pasadena, for three years. Through his dynamic leadership the Western Diocese purchased a huge multi-purpose complex in 1994, located at 3325 North Glenoaks Blvd., Burbank, where the present and permanent Diocese Headquarters stands today.
Soon after arriving, His Eminence held meetings and receptions for ecumenical and lay leaders and realized that he needed hostesses, so he invited twelve women from various churches. Margaret Dadourian from Pasadena was the first Chair and her committee consisted of Hadji Haiganoush Dulgarian, Rose Ketchoyan, Sue Chortanian, Norma Sulukciyan, Mary Vartanian, Dorothy Manookian, Isabelle Davidian, Gloria Meghrigian, Hadji Perooz Frankian, Azadouhie Keotahian and Babe Simonian. They set an elaborate buffet for his Christmas receptions and organized countless luncheons and receptions. Under his foresight and direction, the first Debutante Ball was presented in 1972 with Mike Connors as the Master of Ceremonies.
From this early group the Ladies Auxiliary expanded to include many women who are no longer with us, as well as the current membership of approximately 40 women, who continue to serve the Diocese.