YEREVAN — Prime Minister Nikol Pashinian today received Canada's Prime Minister Justin Trudeau who is paying an official visit to Armenia.
The official welcoming ceremony was followed by the two prime ministers' private meeting. Greeting the guest, Prime Minister Pashinian stated, in part: "Dear Mr. Prime Minister, I am glad to host you in the Armenian capital. You are the first Canadian prime minister to pay an official visit to the Republic of Armenia, so this is a historic opportunity for us. You may have already felt our people's great sympathy and warm attitude for your country and yourself. I hope we will succeed in upgrading and reinvigorating the wealth of warm relations between our two countries. I welcome you once again; I am happy to see you in Armenia."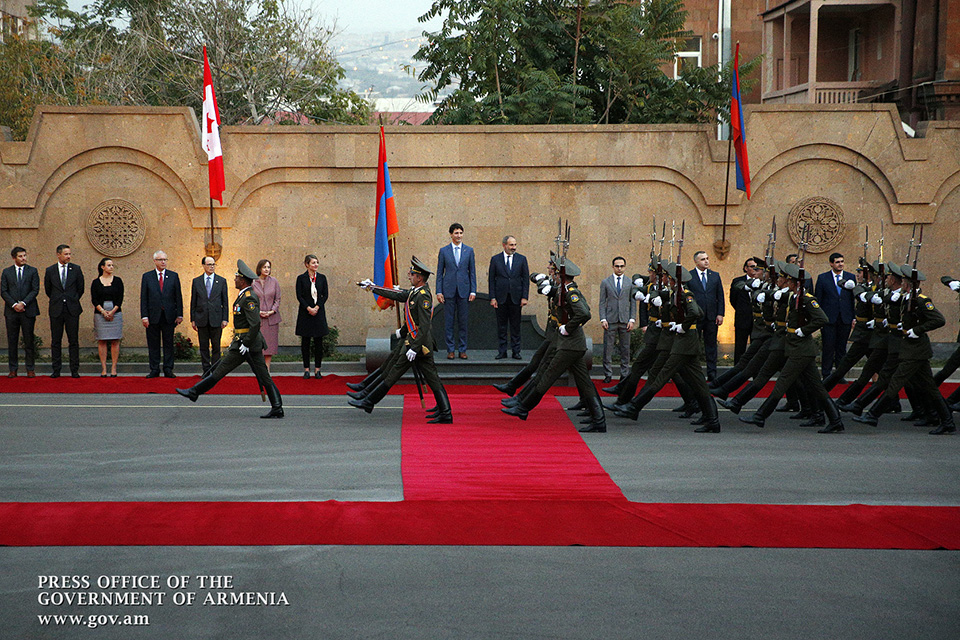 Canadian Prime Minister Justin Trudeau said: "Mr. Prime Minister, I am very grateful for your greetings. It is at least a great honor for me to be in Armenia. You may know that I had the opportunity to visit Armenia with my father during summer holidays many years ago. He had already left the post of Prime Minister by that time, so I am my country's first ever prime minister to pay an official visit to Armenia. Even then I felt the friendship between Armenians and Canadians. The warm welcome that I have enjoyed in Armenia is wonderful. I am fairly honored to be here. Thank you very much."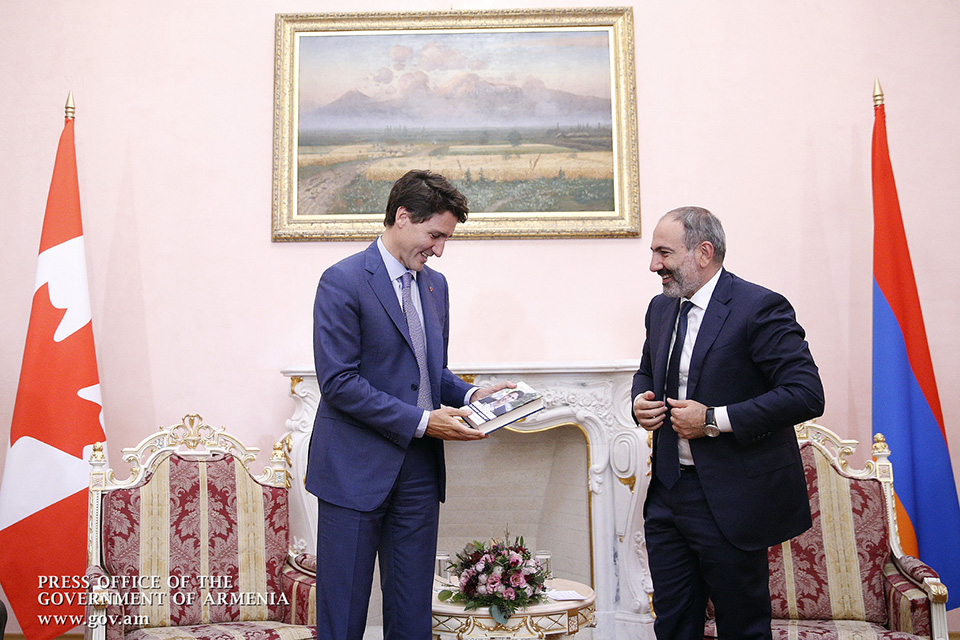 Nikol Pashinian donated to Justin Trudeau the Armenian version of his book entitled "Common denominator." "Here is another proof of my words that you have a special place in Armenian citizens' perception: this is the copy of your book, translated into Armenian, which I am delighted to present to you," Nikol Pashinian said. Justin Trudeau thanked for the book, noting that he was unaware of his book being translated into Armenian and was very happy about it.
The parties discussed a broad range of issues of mutual interest, including those political changes underway in Armenia. Justin Trudeau emphasized that while democracy was facing serious threats around the world, Armenia set an example which was awesome not only for Armenia, but also for the whole international community. The Canadian Premier noted that he had come to Armenia to show, inter alia, his country's willingness to promote Armenia's development.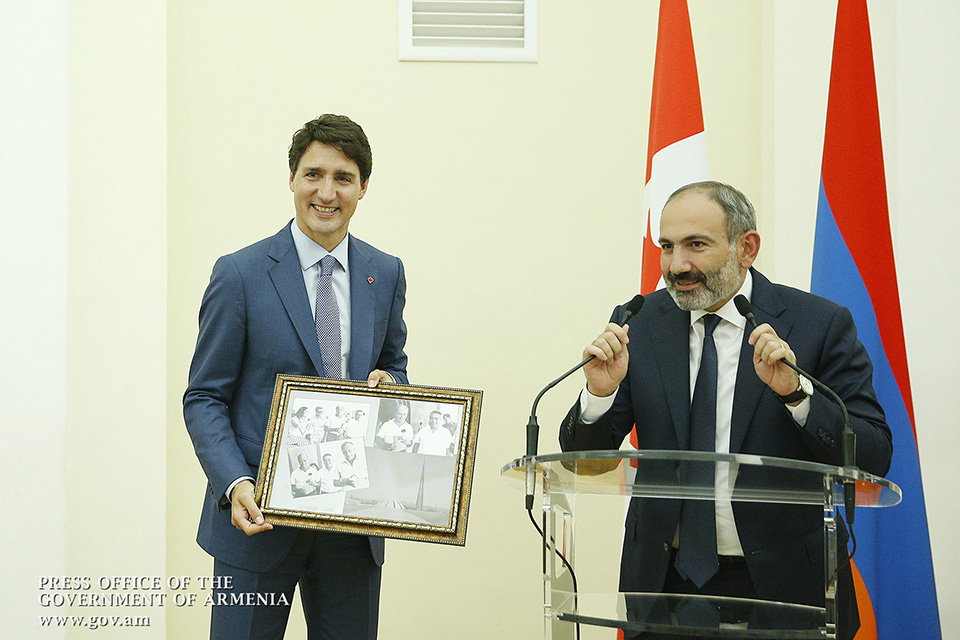 "The democratic process in Armenia is a credit not only to Armenians, but also to the whole world," Justin Trudeau underscored. He assured of Canada's readiness to assist Armenia in developing the economy, attracting investment, improving infrastructure and in other priority areas.
Speaking about economic development, Prime Minister Nikol Pashinian pointed out that his government seeks to change the economic structure in order to make of Armenia a technological country. The Premier expressed confidence that the country has the necessary potential for it. The Prime Minister added that the Government has made serious progress in handling corruption and expressed conviction that it would help improve the business environment on the way to economic progress.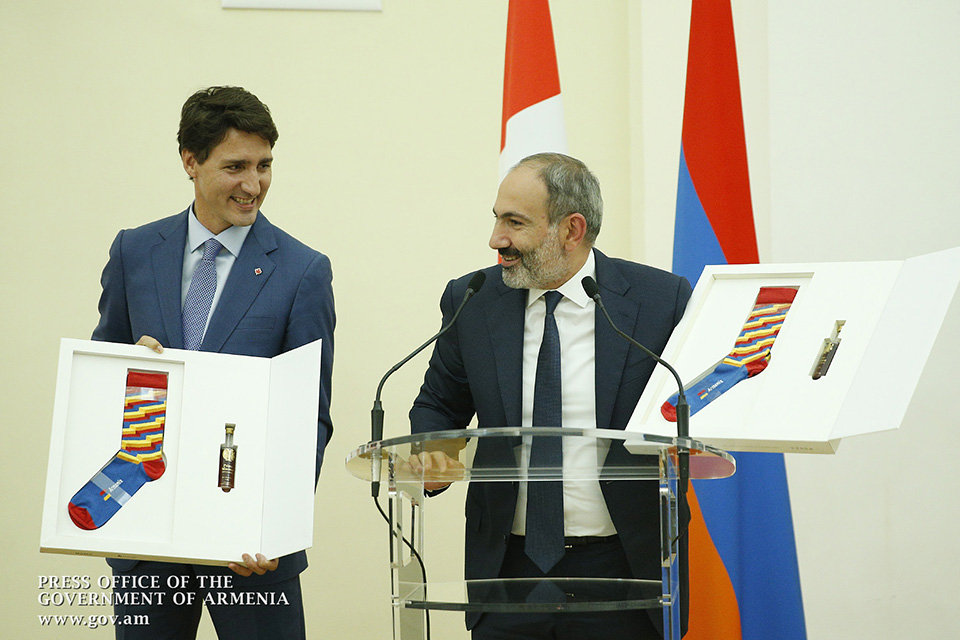 Nikol Pashinian and Justin Trudeau went over other issues related to the furtherance of Armenian-Canadian cooperation in different spheres of public life.