PARIS (RFE/RL) — French President Emmanuel Macron and Armenian Prime Minister Nikol Pashinian have led a moving memorial service for Charles Aznavour in the famed Armenian-French singer-songwriter's native Paris.
Aznavour, who died on October 1 at the age of 94, was commemorated in the courtyard of Les Invalides, a complex of buildings and monuments related to French military history.
The ceremony at Les Invalides began with Aznavour's coffin, draped in the French tricolor flag, being carried into the cobbled courtyard while to the sound of haunting music played from a duduk, a traditional Armenian flute. An army band then played the national anthems of Armenia and France.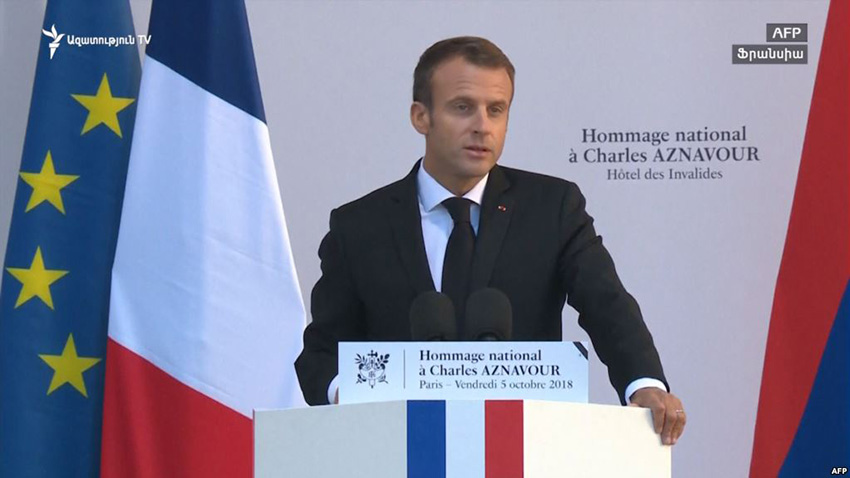 "Some heroes become French by spilling their blood. This son of Greek and Armenian immigrants, who never went to secondary school, knew instinctively that our most sacred sanctuary was the French language," and used it like a poet, Macron said at the ceremony
"In France, poets never die," he added, standing before the coffin draped in the French national flag.
The French president also praised Aznavour's "loyalty to his roots." "Armenians of all countries, today I am thinking of you," he said. "He was supposed to be one of us next week in Yerevan, his absence will leave a giant void."
Macron said the singer had shown "loyalty to his roots" by throwing himself into helping Armenia recover from a devastating earthquake in 1988 and becoming an ambassador for the country to the United Nations.
Aznavour "carried the scar of the genocide of his people" in his heart and for that reason knew suffering, Macron said, adding that "for millions his songs were a balm, a comfort and a cure."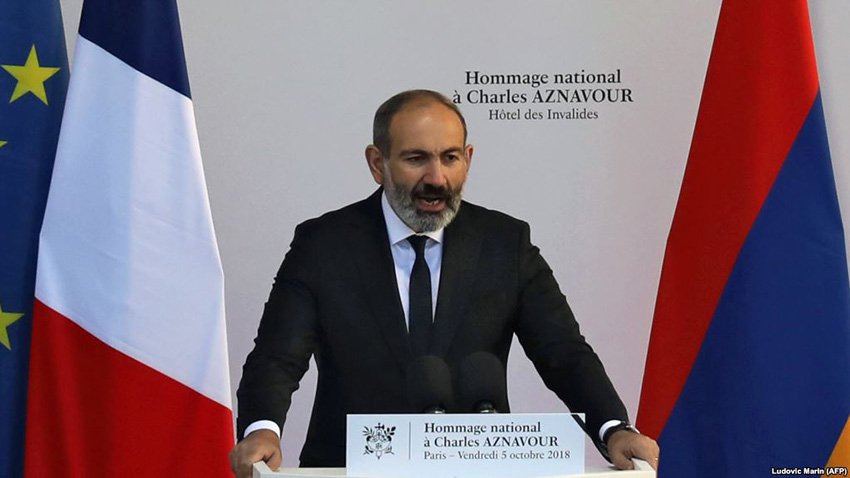 Pashinian, who had called the singer a "national hero," said "every Armenian thinks of him as a kind of parent who has carried our name to the world and given Armenians a new pride."
"A free and happy Armenia will be our response to the work you did for the Armenian people," said Pashinian, who came to power after leading protests against the long-entrenched leadership of the former Soviet republic.
"I bow before you — a great Frenchman, a great Armenian, a great artist, and a great humanist," he said. "Rest in peace, dear master."
After a moment of silence, Aznavour's coffin was carried out of the Invalides to the strain of one of his most famous songs, Emmenez-moi (Carry Me Away).
Aznavour will be buried in a private ceremony on October 6 in accordance with his family's wishes, French newspaper Le Monde reported.