YEREVAN — On June 8, 2018 Samantha Power, former United States Ambassador to the United Nations and member of the Aurora Prize Selection Committee, has visited the Tsitsernakaberd Memorial and the Armenian Genocide Museum-Institute to honor the victims of the Armenian Genocide.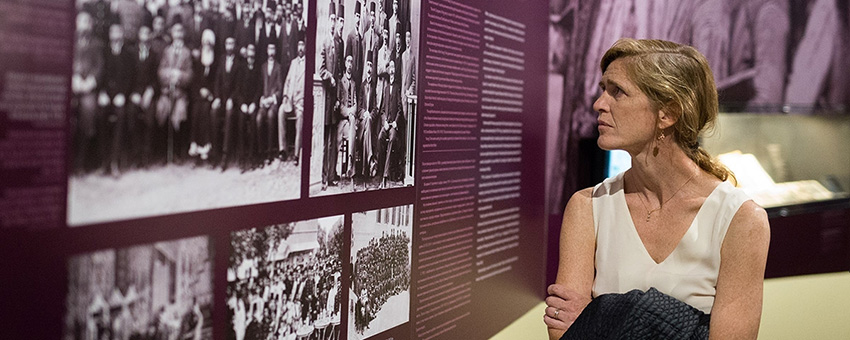 During her visit Ambassador Power has also signed the Museum's guestbook.
She wrote: "To the people of Armenia and Armenian descent. It has been very meaningful – and very painful – to walk these halls and to see the faces and read the testimonies of those who suffered immeasurably before, during, and after the Armenian Genocide.
Often those killed were taunted with the words, "Nobody will know. You will all be forgotten." But here – and all around the world – the descendants of those murdered have defied those taunts, painstakingly documenting all of the small decisions and actions that gave rise to a most colossal crime.
We will never bring back the lives of innocent men, women, and children murdered and destroyed in the Armenian Genocide but all of us have a responsibility to remember, to fight denial, and to do all within our power to ensure that the horrors that happened to your people embolden us to support human rights and fight injustice in the present, wherever it occurs."