TBILISI — Prime Minister Nikol Pashinian sounded optimistic about the future of Georgian-Armenian relations on Thursday as he toured Armenian-populated areas of Georgia at the end of a two-day official visit to the country.
Pashinian lavished praise on his Georgian counterpart Giorgi Kvirikashvili, calling him a "good friend" of Armenia the day after they met for the first time in Tbilisi.
"I want to say that the most important result of this visit is that a warm personal relationship, friendship has been established between Georgian Prime Minister Giorgi Kvirikashvili and me," he said.
The two premiers pledged to give new impetus to bilateral ties after their talks. They attended later on Wednesday an official reception at the Tbilisi City Hall dedicated to the 100th anniversary of the establishment of Armenia's first independent republic.
Speaking at the event, Kvirikashvili hailed the recent peaceful protests in Armenia that brought Pashinian to power. "All the signs are the changes in Armenia laid the firm foundation for Armenia's further development," he said.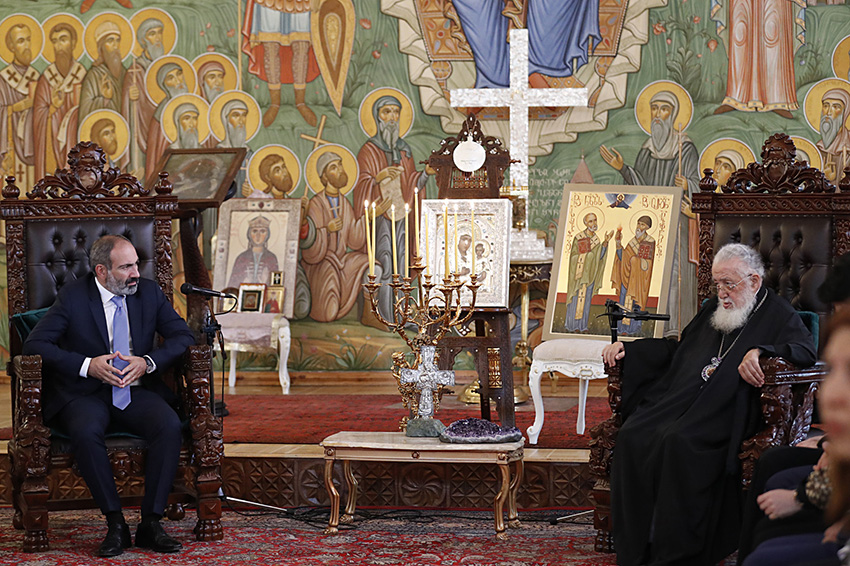 Pashinian met with the influential head of the Georgian Orthodox Church, Patriarch Ilia II, and businesspeople in Tbilisi on Thursday morning before heading to Georgia's Javakheti region mostly populated by ethnic Armenians. He visited several local towns and villages where scores of people gathered to greet him and listen to his speeches.
"I believe that after this official visit a new page will be opened in Armenia's relations with Georgia and Armenian-Georgian relations in general," Pashinian said at a rally held in the village of Gandza. "We think that Armenian-Georgian relations must be based on the following new formula. Georgia's government and people must be confident that there is no conspiracy and threats towards Georgia and the Georgian people in the actions of Armenia and the Armenian people."
"By the same token, Armenia and the Armenian people must be confident that there is no conspiracy and threats towards Armenia and the Armenian people in the actions of the Georgian state and the Georgian people," he added. "It is on this basis that we need to build a new relationship, new friendship, new brotherhood."
Pashinian insisted that the current Georgian government is committed to tackling high unemployment and other socioeconomic problems in Javakheti that have long fueled discontent among local residents.
The Armenian PM was met with great enthusiasm in all the communities of Javakhk. Pashinian gave speeches everywhere, touching upon mainly the Armenian-Georgian relations, underlining the importance of deepening them further and raising them to a new level.