NEWHALL, CA — On May 24th, at the Eternal Valley Memorial Park and Mortuary in Newhall, opened a monument dedicated to the 100th Anniversary of the First Republic of Armenia. The monument is a small-scale copy of the Sardarapat Memorial in Armenia which is a symbol of pride and survival and marks the place of Armenia's successful last-ditch effort to save the nation from obliteration at the hands of the Turks in the Battle of Sardarapat on May 22–26, 1918.
Archbishop Hovnan Derderian, Primate of the Western Diocese of the Armenian Church presided over the dedication of the monument. He was accompanied by Diocesan clergy the Very Rev. Fr. Dajad Dz. V. Yardemian, Archpriest Fr. Sarkis Petoyan, the Rev. Fr. Vazken Movsesian, the Rev. Fr. Yeghia Isayan, the Rev. Fr. Yeremia Khachatryan, the Rev. Fr. Serovbe Alanjian and the Rev. Fr. Yeghishe Ksachikyan.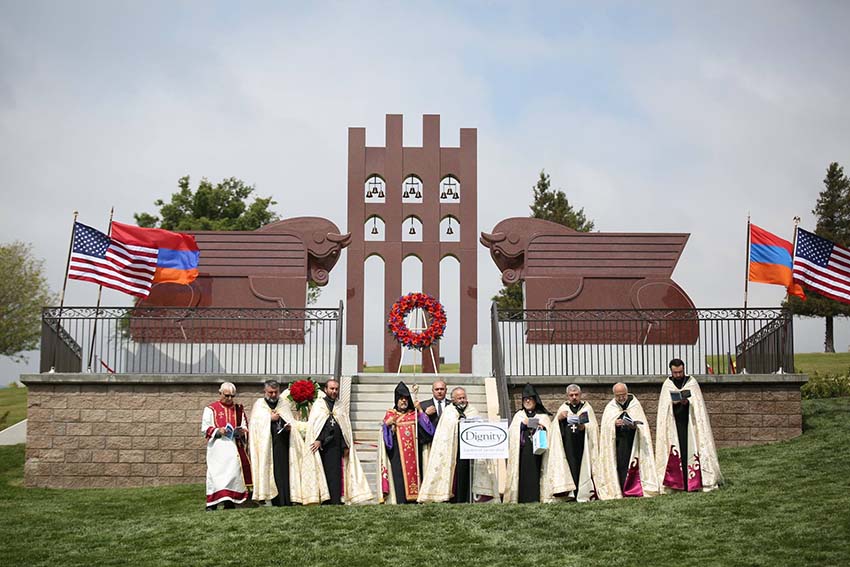 Armenian-Americans and representatives of civic officials participated in the ceremonial rite. In his remarks, Archbishop Derderian expressed his gratitude to the leadership of Eternal Valley Memorial Park for the noble initiative.
Referencing to the significance of the monument, Archbishop Derderian said, "This is a historic day in the life of the Armenian community, as we all witness the rise of a monument which reminds the nation of Armenia and the world about the heroic Battle of Sardarabad for the defense of our Christian Faith and the ancestral land of Armenia."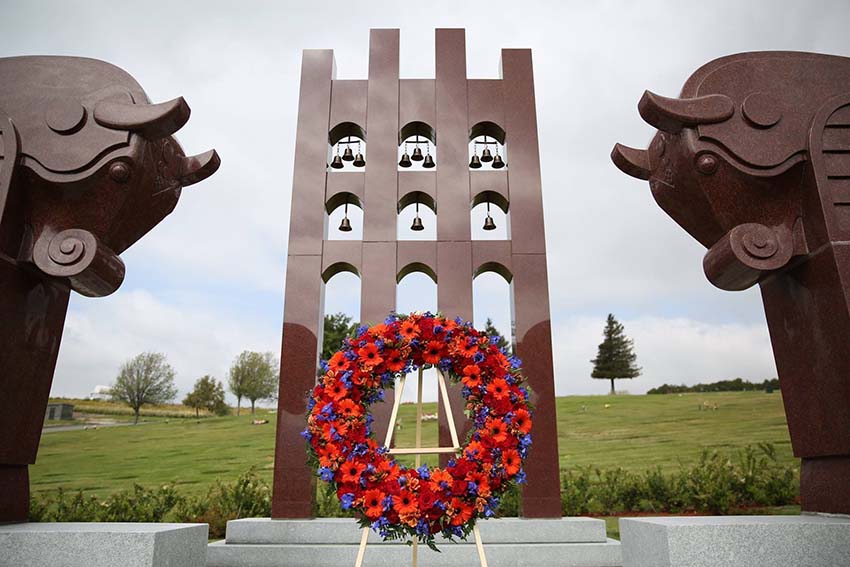 "The building of this beautiful monument, which was initiated by Dignity Memorial, through the leadership of Anthony Lampe, Market Director, Sam Azar, Market Sales Director and Arthur Keledjian, Market Sales Manager, Curtis Woods – Lampais, manager, is symbolic of life. The souls of those who depart from this earthly life shall find rest and comfort in Christ's Resurrection, for the monument symbolizes and instills in us the vision of rebirth. I together with my brothers in Christ and the community thank you for your initiative, which will undoubtedly and continuously inspire us all with the vision of our forefathers and the respect rendered to the martyred nation of Armenia by Dignity Memorial. I assure you that as of today, thousands of people will be informed of this monument and will be inspired with what they see. They will praise your initiative and be so thankful. I pray and hope that you will one day visit Armenia and see the sacred land of Sardarabad". Concluded Archbishop Derderian.