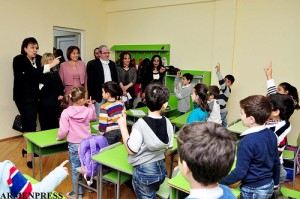 YEREVAN — Armenia's Minister of Diaspora Hranush Hakobian visited on Monday the Guiligian school, which was opened for Syrian-Armenian children about three weeks ago.
Minister Hakobian held a meeting with the school administration, attended by specialists from the Yerevan Municipality, teachers and top officials of the Guiligian charitable union.
The participants of the meeting informed the minister that the school has all the necessary conditions, the children attend lessons in renovated classrooms, the physical education classes are held at the furbished gym and the children attend dance lessons for free thanks to Sofi Devoian. Currently, there are 265 schoolchildren in the 1st-9th grades. They are taught by teachers from Syria, and the textbooks have been copied and distributed to the children.
"I would like to thank all those who made an attempt to support this initiative. What Armenian teachers are doing now is a heroic act, and they are devoted to making sure that no Syrian-Armenian child feels estranged," Minister Hakobian said.
The minister toured the classrooms, talked to the children, listened to them as they shared their impressions of life, leisure and the lifestyle in Armenia and got acquainted with the different issues concerning their families.
The Guiligian school launch was initiated by Social Democrat Hunchakian Party and implemented by the Ministry of Diaspora and Guiligian Charitable Union.