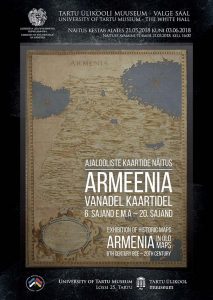 TALLINN — On May 22, the opening ceremony of the exhibition of Armenian historical maps took place at the museum of the University of Tartu, which was initiated and organized by the Armenian Embassy in Estonia (residence Vilnius) and the University of Tartu with the support of the Armenian National Union of Estonia and the Armenian community of Tartu.
In his opening speech Ambassador of Armenia to Estonia Tigran Mkrtchyan presented the collection of maps of Armenia from the 6th century BC to the 20th century compiled by historian Rouben Galichian. The Ambassador noted that in the Middle Ages the names of the countries were often adapted to the places of habitation of the peoples and added that despite the fact that Armenia did not have independent statehood between 1375 and 1918, the world cartography continuously called the territory of the Armenian Plateau as "Armenia". This approach gradually changed only after the Armenian Genocide when the Armenian people ceased to exist in most of their historical homeland. Concluding his speech, Tigran Mkrtchyan noted that the presented 50 maps are essentially the most important thresholds in the history of the Armenian people and are the best way to present our history to foreign audiences.
Urmas Klaas, Mayor of Tartu, in his speech expressed satisfaction over hosting such an educating exhibition, adding that the Armenian people have a very rich history that should be periodically presented to foreign audiences. Urmas Klaas also noted that the great khachkar symbolizing the friendship between Armenia and Estonia is in Tartu, which has been installed in one of the most important parts of the city in 1978.
Tõnu Lehtsaar, the Acting Rector of the University of Tartu, said that the idea of ??organizing the exhibition was approved at one of the meetings of Volli Kalm, the late rector of the Tartu University with Tigran Mkrtchyan, Armenian Ambassador to Estonia, and that he was delighted that Kalm's desire has now been fulfilled. Tõnu Lehtsaar also stressed that Khachatur Abovyan continues to symbolize the Armenian-Estonian friendship, and ?ne of the most important auditoriums of the university is named after the great Armenian intellectual, and where his bust is located.
Mariann Raisma, director of the Tartu University Museum, noted that presenting historical maps in this historic site is of great importance. Here you can get acquainted not only with the last 800 years of Tartu, but also with the centuries-old history of the Armenian people through world cartography.
Before and after the opening of the exhibition, the Armenian community of Tartu presented some performances. After the official opening of the exhibition a reception was held. The exhibition "Armenia in old maps" will be open until June 3.