BOSTON, MA —  On the eve of the 103rd anniversary of the Armenian Genocide,  Peace of Art www.peaceofart.org continues its annual Genocide awareness campaign ,   by honoring the memory of the innocent victims of all genocides.
Since April 10, 2018, digital billboards have been displayed in different cities and towns in Massachusetts, calling on the international community to recognize the first genocide of the 20th century, the Armenian Genocide.
The  image on the billboard is an empty bird's nest surrounded by barbed wire with the remains of a few feathers. This image symbolizes their violent expulsion from the nest. It refers to what happened to the Armenians living in Turkey. They were removed from their historic homeland through forced deportations and massacres, by the order of the Ottoman Empire.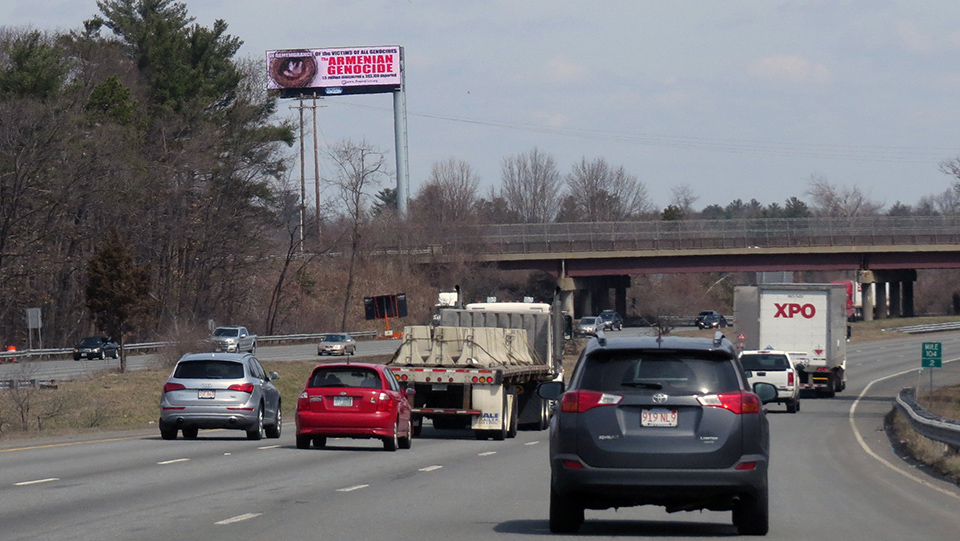 Daniel Varoujan Hejinian (Artist/President) of Peace of Art said, "The billboards remind us that the Armenian Genocide seized 1.5 million lives, while 393,700 Armenians were expelled from their homes and became refugees. Being an emigrant child, I felt the pain of the emigration deeply, and it is most regrettable that genocide continues to be a tool used by governments against their own citizens.  Because of the ongoing war in Syria, thousands of citizens including Armenians, have lost their lives and have been forced to leave their cradle, and enter the unknown route of migration with a hopeless dream to return"
Since 1996, Hejinian has been displaying the Armenian Genocide Commemorative Billboards. In 2003, Peace of Art Inc., began to sponsor the Armenian Genocide Commemorative Billboards. In 2015, Peace of Art Inc., launched its Armenian Genocide Centennial awareness billboard campaign, "100 Billboards for 100 Years of Genocide," in the U.S. and Canada to commemorate not only the victims of the Armenian Genocide but also the victims of all Genocides worldwide.   This year's  billboards will remain on display until April 30, 2018.
Peace of Art, Inc. Is a non-profit 501(C)(3) organization. Founded in 2003, by the artist Daniel Varoujan Hejinian, which uses art as an educational tool to bring awareness to the universal human condition and promote peaceful solutions to conflict.
Billboards Locations:
LYNN, MA: Rte.1A/Lynnway WL 164' N/O Blossom St. F/North and South
METHUEN, MA: Rte. I-495 180' N/O Rte. 113, F/North and South