YEREVAN — The government of the Czech Republic did not authorize the recently disclosed delivery to Azerbaijan of Czech-made heavy artillery systems, the speaker of the country's upper house of parliament insisted on Wednesday.
Photographs released by government-controlled Azerbaijani media showed two columns of Dana self-propelled howitzers and RM-70 multiple-launch rocket systems participating in military exercises held in Azerbaijan last month. It is not clear when and how the Azerbaijani military got hold of these weapons.
"The Czech Republic has not granted an export license for [sales of] lethal military equipment to Azerbaijan in recent years," the Czech Foreign Ministry said in a September 18 statement to RFE/RL's Armenian service (Azatutyun.am).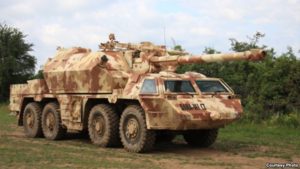 What is more, the statement said, the Czech government turned down in 2017 and 2016 Azerbaijani requests for the purchase of the 152-milimeter Dana howitzers and the 122-milimeter RM-70 rockets and informed the European Union about that.
The ministry added that it does not know just how they were delivered to Azerbaijan and "will continue addressing this issue."
The speaker of the Czech Senate, Milan Stech, echoed this statement during a visit to Yerevan. "The Czech Republic did not sell Czech weapons to Azerbaijan," he told reporters after talks with his Armenian counterpart, Ara Babloyan. "The Czech Republic respects the embargo imposed on such problematic countries."
"I just can't understand how Czech weapons ended up in Azerbaijan. But I can assure you that the Czech authorities did not authorize that," said Stech, who is affiliated with the governing Czech Social Democratic Party.
It was not clear whether Babloyan raised the matter with Stech at their meeting. The Armenian speaker said only that he briefed Stech on international efforts to end the Karabakh conflict and Azerbaijan's "unconstructive" stance in the peace process.
The United States and other key NATO members states have long maintained embargoes on sales of offensive weapons to Armenia and Azerbaijan. The Czech Republic joined the alliance in 1999.