NEW YORK – For the first time in almost a century, composer Barsegh Kanachian's opera Monk, a tragic love story set on the shores of Lake Sevan, will be featured on the world stage at The Master Theater under the artistic direction of Gosh Sargsyan, musical direction of Knarik Vardanyan and featuring the talents of Astghikner Youth Choir and the Shushi Dance Ensemble.
This special event, under the auspices of His Eminence Khajag Barsamian, Primate of the Diocese of the Armenian Church of America (Eastern) and sponsored by the Sahakyan Brothers, was brought to life through the shared musical passion of producers Maria Sahakyan, a New York-based vocalist and Sargsyan, who hails from Armenia and has directed creative works both in the homeland and abroad.
"One of our unique cultural pieces of the Armenian musical world is the Monk opera," said Sargsyan, who has taught at the Abovyan Armenian State Pedagogical University for the past 14 years. "And after nearly eight decades of silence, I feel pride that we are able to stage this production in New York City."
Not only is the opera being given a rebirth, it is also the debut performance of youth in Monk. In addition to lead actors Artur Babayan and Alen Manukyan, the opera will feature the voices of Armenians from the homeland and the Diaspora, alongside New York-based musical students of all backgrounds – from Mexican to Jewish to Russian to Georgian – who learned Armenian music under the training and guidance of Sahakyan.
The youth, aged 4-17, are members of Astghikner Youth Choir, which was founded by Sahakyan during her time as a teacher at St. Gregory Armenian Church Mission Parish of Brooklyn, New York. She welcomed anyone with a desire to learn Armenian music.
"Music and opera has no language and no religion," said Sahakyan, who studied vocals and piano at the Komitas State Conservatory of Yerevan. "Music unites us all and brings us together."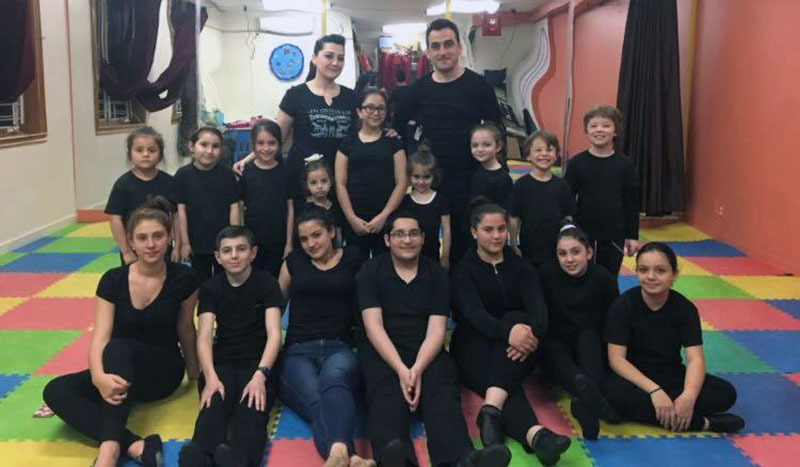 Rehearsing since February, Sahakyan notes the youth's dedication, who stay active and engaged during their five-hour rehearsals. All talented in their own right, the children are pursuing music both inside and outside of school. And by joining Astghikner, they have made new friends and shared a cross-cultural experience while keeping Armenian music alive.
"I like singing because I feel happy when I'm on stage and it's been fun to work with other kids on this opera," said Dea Arabuli, a kindergartener who decided to join Astghikner to learn about the Armenian music and culture.
"I've learned a lot over the past few months, especially the certain ways to talk in Armenian and pronounce the words," said 11-year-old Emily Plakht, a student in the musical theater program at IS 228 in New York. "I love singing and feeling the music, which is always a part of me." This won't be the first time Emily is on stage as she won first place in the musical Snow White and the 7 Dwarfs at Carnegie Hall.
"It's my life's work to work with kids and I can't imagine my life without it," said Sahakyan, who is a private vocal coach and serves in the St. Vartan Cathedral Choir. "The children may be small stars now but I know they will grow up and become big stars."
The skillful voices of these youth will indeed enhance the experience of Monk, which takes place on an ancient island of Sevan, where a church is built at the request of Princess Mariam. When her brother and his daughter, Seda, come to see the church on a raft, the stormy lake flips them over. A monk saves Seda from drowning in the lake but he then loses the peace of his soul and body and his inner world becomes filled with Seda's magic vision. Every night on Lake Sevan, the monk stares into the sky and waits for Seda's call. Unable to move on from his love for her, he throws himself into the water.
"Our main goal is the preservation of Armenian art around the world," said Sargsyan. "This is a unique cultural experience where children of all nations will unite and sing together is Armenian language," said Sargsyan, who has been working with children in the theater and opera worlds for almost two decades.
The melancholy yet alluring story comes to life with the charming décor, set pieces, handmade costumes and the artistic performances of the Shushi Dance Ensemble.
"When I was approached by Gosh and Maria, I was impressed with their vision and professionalism as well as the story," said Seta Kantardjian, artistic director and choreographer who founded the ensemble 25 years ago. "The first time I saw the children sing, I thought they were phenomenal and I couldn't resist the idea of Shushi being involved in a musical, which will be a first for us."
The opera will be featured in the First Time Around the World Stage series, with plans to perform around the world so that Kanachian's masterpiece will continue to delight a new generation. A composer and conductor who studied musical theory, Kanachian was born in the Ottoman Empire in 1885 and contributed greatly to the Armenian culture while living in the Diaspora, with stints in Istanbul, Paris, Cyprus and Lebanon, where he died in 1967. He is mostly known for arranging the music to the Armenian national anthem, Mer Hairenik along with the famous traditional Armenian lullaby Oror Im Palas. A meeting with Komitas Vardapet in 1910 helped him decide to become a musician and dedicate his life's work to the Armenian people. Kanachian's own daughter, Seda, will travel from Beirut to New York with her daughters to see her father's opera come to life on the stage after 80 years.
"Music has always played an important role in the life of the Armenian people, as a force that brings us together," said Archibishop Barsamian. "That great tradition has also left an imprint on the operatic stage, as newer, younger talents, add their distinct voices to our national chorus. The future will be enriched by the creative powers which are alive in our younger generation—as this opera, Monk, reminds us."
"We don't want this opera to die," said Sahakyan. "We want it to live, like Bizet's Carmen, and we want to uphold our Armenian artistic tradition while doing so."
The Monk opera will take place on Friday evening, October 13, 2017 at the Master Theater, 1029 Brighton Beach Avenue in Brooklyn, New York. For tickets please visit mastertheater.com or call (718) 732-3838 or (347) 882-4418.
-Taleen Babayan