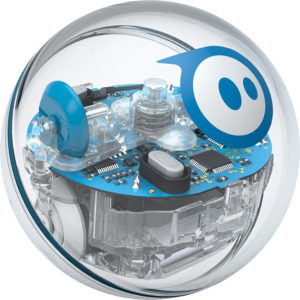 LOS ANGELES — If Paul Berberian had his way, kindergarteners would start coding as soon as they could count to 10 and recite the alphabet.
Computation, Berberian believes, is the lingua franca of the future. "Every child must learn about these machines—how to communicate with them, how they interact with each other," he says. "Otherwise they will be without a language to talk to the world."
Berberian is CEO of Sphero, the Boulder, Colorado-based maker of smartphone-controlled robots that are already transforming STEM instruction around the world.
He will flesh out his tech-centric educational vision at the 2017 INNOVATE ARMENIA festival on Saturday, September 23, at USC.
Today's world population of Sphero robots—including the company's popular Star Wars BB-8 and R2-D2 droids, which topped many a child's 2016 Christmas wish list—exceeds 3 million. The orb-shaped smart gadgets are sold in 70 countries, and the mobile app that controls them is available in seven languages, including Mandarin and Portuguese. A million schoolchildren now use Sphero in classrooms worldwide.
The educational version of Sphero comes bundled in a 12-pack suitcase that teachers can wheel from classroom to playground to the art studio and even the pool deck.
The robot is waterproof, battery-efficient and, according to Berberian, virtually indestructible.
A straightforward math lesson has third graders programming their robots to sketch a square. Go 2 feet, turn 90 degrees left, repeat. "It's eight lines of code. Very simple," says Berberian. Next, they're asked to "drive" a triangle. By the end of the class, these 8-year-olds have independently discovered 7th grade-level concepts like the Pythagorean theorem. Before long, they're navigating elaborate mazes using precision measurements, irregular angles, variable timing and other sophisticated spatial concepts.
Rethinking STEM
Berberian's talk is part of an outside-the-box festival that explores what it means to be Armenian in the 21st century and celebrates the accomplishments of innovators everywhere – especially and including in Armenia. STEM has always been an important component of education and excellence in Armenia.
"The 21st century is about reimagining and reinventing so many things," says USC Institute of Armenian Studies director Salpi Ghazarian. "A consistent tool in this process is technology and how it can be bent in new ways. Armenians have, and continue to, excel in STEM fields – science, technology, engineering and math."
INNOVATE ARMENIA is now in its third year. Last year's festival, which focused on the digital humanities, drew 3,000 attendees and 20,000 more watched online. This year's program has an emphasis on re-imagining and re-inventing, with an emphasis on STEM education.
Armenia's young people, from throughout the country, not just Yerevan, continue to punch above their weight, as demonstrated by impressive Armenian medal counts at the annual International Mathematics Competition (IMC) for university students and the International Mathematical Olympiad for high school students. At INNOVATE ARMENIA, IMC silver medalist Gevorg Mnatsakanyan will represent the 2017 Yerevan State University team. All four team members won gold or silver at last month's competition in Bulgaria, and students from other Armenian universities bagged four additional medals.
From California, NASA engineer and USC professor Michael Kezirian and his students will bring and demonstrate Aerocene – an inflatable hot air balloon at the intersection of art, engineering and environmental science.
There will also be a Makerspace equipped with laser cutters and 3D printers, where engineers and students from PCC, USC and CalTech will create an environment for collaborative creation.
Armenians produce a disproportionately large number of chess masters, too. More than merely the national pastime, chess is a required subject in the Armenian school curriculum. At INNOVATE ARMENIA, top-five ranked U.S. national women's chess team member Tatev Abrahamyan, and international master and coach Andranik Matikozyan will play against attendees one-on-one and in simultaneous games.
This festival makes it possible for everybody to rethink and reimagine, Ghazarian notes, especially in a city as multiethnic as Los Angeles. "Anyone, including those whose ancestors arrived on the Mayflower, will find something to pique their interest," she says.
More festival highlights
Billed as a day of discovery, science, music, food, wine, chess and lively conversation, INNOVATE ARMENIA 2017 features back-to-back speakers in Bovard Auditorium, such as the. robotic demonstration-talk by Sphero CEO Paul Berberian. Other headliners include Washington Post columnist David Ignatius and his brother, Harvard Business Review editor-in-chief Adi Ignatius; 2016 Pulitzer Prize-winning poet Peter Balakian and 2016 Pulitzer Prize-winning novelist Viet Thanh Nguyen; and global humanitarian manager Hovig Etyemezian, chief of the Mosul operation of the UN High Commissioner for Refugees.
At the USC Doheny Library, a unique installation of 19th century postcards from Armenian areas of the Ottoman Empire are juxtapositioned with lifesize images of some of the same spaces, today. "UNDELIVERABLE: Postcards and Photos of Lives Interrupted" is a pointed, impactful way of rethinking the loss brought on by the genocide and the civilization that no longer exists.
A music stage will feature innovative musicians from throughout the US and Armenia, all day.
General festival information
Innovate Armenia takes place Saturday, September 23, 10 am to 6 pm in Alumni Park and Bovard Hall on USC's University Park Campus. Admission is free. All-day parking is $12 in USC parking structures. Participants are encouraged to park in Lot X at the corner of Figueroa and McCarthy Way, just off the Exposition Blvd exit of the 110 Freeway.