ORANGE, CA – Chapman University's Rodgers Center for Holocaust Education will host a conversation on the Armenian Genocide with distinguished scholars and Chapman University Presidential Fellows Dr. Richard Hovannisian and Dr. David Crowe. Their conversation will focus on recent research on the Armenian Genocide, including the foreign office records of Germany, Turkey's most important ally during World War I. These detailed reports of German diplomats, missionaries, and businessmen raise the crucial question of why knowledge alone is not sufficient to stop genocide. The event is part of the Center's series "History, Memory, Justice."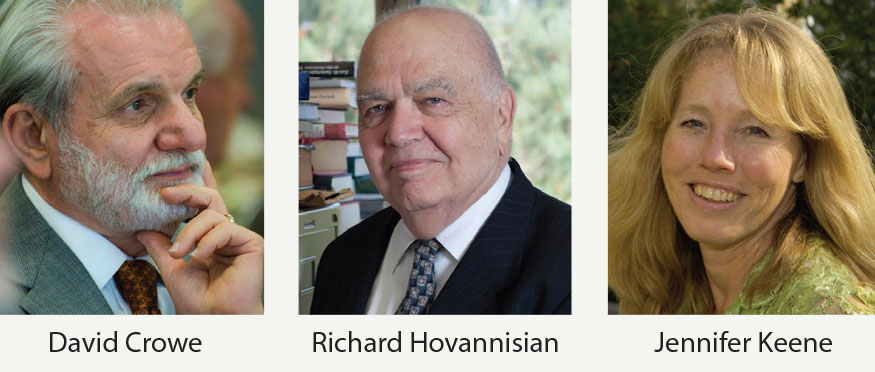 Dr. Richard Hovannisian is Professor Emeritus of History at UCLA and Adjunct Professor of History at USC. He has published more than 30 volumes on Armenian history and culture, including Looking Backward, Moving Forward: Confronting the Armenian Genocide.
Dr. David Crowe is Professor of History Emeritus at Elon University and the author of the definitive biography on Oskar Schindler, as well as numerous books on the history of genocide, including War Crimes, Genocide, and Justice: A Global History.
The conversation will be moderated by Dr. Jennifer Keene, Chair of the Department of History in Chapman University's Wilkinson College of Arts, Humanities, and Social Sciences and current President of the Society of Military History.
This event will take place September 26, at 7 p.m., at Chapman University's Fish Interfaith Center – it is free and open to the public. Parking for events is available on campus in the Fred L. Barrera Parking Structure on Sycamore Street and the Lastinger Parking Structure on Walnut Avenue. Permits costing $2 for two hours and $3 for four hours may be purchased at each structure.
About Chapman University
A
s an academically distinguished center of learning, Chapman University attracts extraordinary students and faculty from around the globe. Its ten schools and colleges foster a vibrant intellectual community, and provide extensive opportunities for students to learn, grow and discover alongside remarkable faculty. The University is home to 8,500 students pursuing bachelor, master and doctoral degrees, and is alma mater to more than 40,000 alumni found throughout the United States and the world. Now celebrating its 156th year, Chapman is known for its distinguishing strengths in leadership and civic engagement, in the arts and entertainment disciplines, and in specialized sectors of technology and science. The University is comprised of its main campus in Orange, California, and the Rinker Health Science campus for graduate health science programs in Irvine, California.