STEPANAKERT — Gagik Petrosyan, a soldier wounded in the aftermath of the Four Day War of April 2016, celebrated housewarming in Stepanakert, the capital city of Artsakh on Wednesday. The house was renovated by the Tufenkian Foundation, in the framework of the Housing for Wounded Soldiers initiative. Tufenkian Foundation Executive Director Raffi Doudaklian and Board Members Antranig Kasbarian and Andre Gumuchdjian, Italian-Armenian writer Antonia Arslan, together with a group of Diaspora Armenians, as well as representatives of local media attended the housewarming.
Since 2003, the Tufenkian Foundation has implemented a number of projects and initiatives in support of Artsakh. In April 2016, in response to the Four Day War, the Foundation launched an urgent appeal to help the people affected by the war. Since then, with funds raised during this emergency appeals and through additional support from individual donors, the Foundation provided housing support to seven soldiers: three soldiers in Martakert, one in Askeran and one in Martuni.
While the initiative was launched with the aim of supporting soldiers injured in the Four Day War, it was later expanded to include soldiers with housing needs who have been injured in battle and are not able to able to repair their homes or purchase new ones. So far, houses have been renovated for two soldiers who fought and were wounded in the 90's liberation war.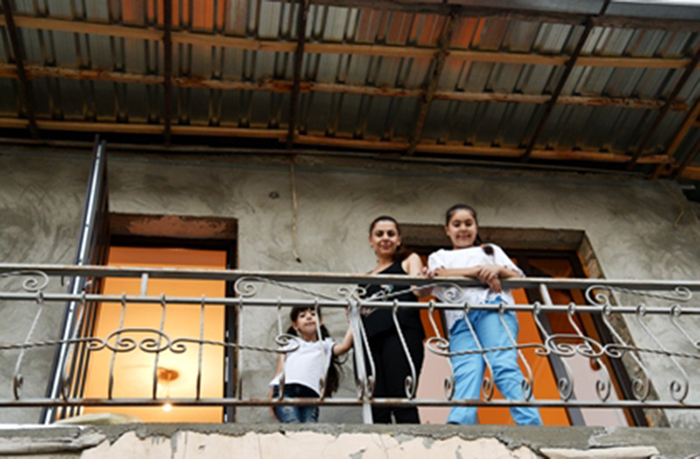 Gagik Petrosyan is the seventh soldier to receive a fully renovated house from the Tufenkian Foundation. Before being wounded, Mr. Petrosyan served in one of the frontline military bases in Artsakh and was heavily wounded during one of the battles following the Four Day War.
Now, Mr. Petrosyan, 38 years old, is married and has two daughters. Despite his severe disability, Mr. Petrosyan, a captain by rank, continues serving the Self Defence Forces of Artsakh as an intelligence officer. Before the house was renovated, for more than 10 years, the family lived in very poor housing conditions that were disadvantageous for the health and well-being of their children. While Mr. Petrosyan tried to carry out some renovation works, his disability prevented him from completing the improvements.
In his remarks during the housewarming ceremony, Tufenkian Foundation Executive Director Raffi Doudaklian said "These soldiers leave everything behind to serve our country and protect our borderlands. The least we can do is make sure that they have decent housing".
As a result of the reconstruction works carried out by the Tufenkian Foundation during the past couple of months, the house is now fully renovated: in addition to general improvements, the roof has been repaired, windows and doors installed and new flooring has been constructed.
Although the 2016 emergency has ended, the housing need for Artsakh's soldiers is ongoing. With many wounded/disabled soldiers requiring similar assistance, the Foundation will continue this work indefinitely.