YEREVAN — In April, the AGBU Armenian Virtual College (AVC) launched its Armenian language e-Hangouts as a way for e-learners to practice their language skills. Founded in 2009, the Armenian Virtual College has addressed the demand for Armenian language instruction worldwide with its online courses in Eastern and Western Armenian, along with courses in Armenian history, culture and chess. The establishment of the e-Hangouts, open to all AVC students past and present, marks an expansion of the program by providing opportunities for learners to practice and forge bonds with this innovative platform.
For the past two months, AVC alumni with intermediate and advanced Armenian language skills e-meet fellow e-learners during the e-Hangout sessions and discuss various topics, such as philosophy, art and cooking. "Communicating in Armenian through the AVC e-Hangouts is not only important as a forum to our e-learners, but it is also very effective in connecting global Armenians," said AGBU Central Board member and AVC founder Yervant Zorian.
The idea for this global communication platform was proposed in February during a series of events in honor of the United Nations Educational, Scientific and Cultural Organization (UNESCO) International Mother Language Day that was dedicated to Armenian language preservation in Armenia and in the diaspora. Since 1999, the UNESCO International Mother Language Day-held each year on February 21-has supported mother language and multilingual education to raise awareness about linguistic and cultural diversity through global language education and intercultural communication.
The opening event of the series was the 13th Yerevan Book Fair-Expo at the Khnko Aper National Children's Library, which took place from February 18 to 21. In the AVC and the Armenian Ministry of Diaspora joint pavilion, AVC showcased its multimedia e-Book series and Armenian language course materials to demonstrate the innovative capabilities developed to meet the needs of young e-learners. During this Fair-Expo, the Minister of Diaspora Hranush Hakobyan commended AVC and its methods: "This unique institution always stands out with its innovative offerings. The e-publications are what we have been missing today for a new generation of readers. The Ministry will support AVC to further raise awareness and participation."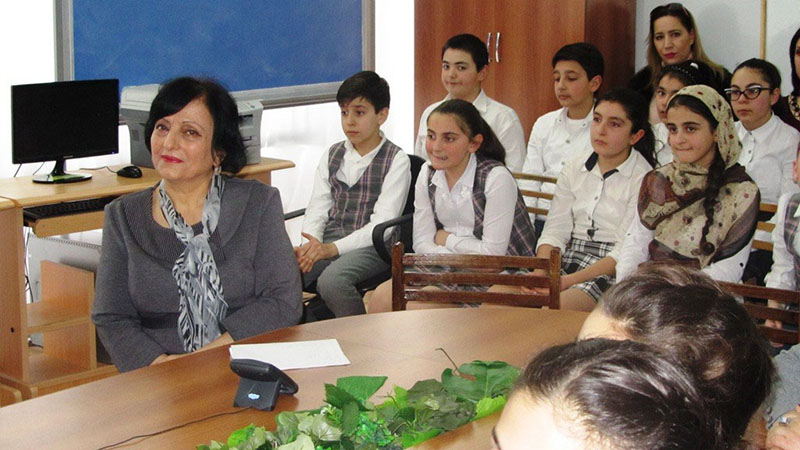 A roundtable discussion, entitled "The Armenian Language in Textbooks," was held on February 20 and co-organized by AVC, the Armenian Ministry of Diaspora and the National Academy of Sciences of Armenia. During the discussion, AVC detailed its approaches for disseminating the Armenian language and AVC Hybrid Education coordinator Arpine Tavakalyan shared AVC's online experience in preparing e-learning materials. "Distance learning and applying the latest technologies need to have a special place in the development of new language policy and new textbooks need to be accessible to the Armenian diaspora as well," she said.
The Armenia-Lebanon virtual conference held on February 24 was devoted to the preservation of Western Armenian. During the event, AVC Academic director Hasmik Khalapyan and online Western Armenian instructor Zepur Kheblikian reemphasized the significance of using e-learning methods to teach today's generations and AVC's proactive efforts in preserving Western Armenian.
To conclude the series, AVC held an e-Hangout session on March 2 to join the AGBU Lazar Najarian-Calouste Gulbenkian School in Aleppo with the #150 Public School after F. Nansen in Yerevan. The topic of discussion was language learning in Armenia and in the diaspora.
AVC continues to provide a unique method of learning for its e-learners to ensure progress in their conversation and comprehension skills as well as in creating bonds within the global Armenian community.
For more information about AGBU Armenian Virtual College, please visit www.avc-agbu.org/.
Established in 1906, AGBU (www.agbu.org) is the world's largest non-profit Armenian organization. Headquartered in New York City, AGBU preserves and promotes the Armenian identity and heritage through educational, cultural and humanitarian programs, annually touching the lives of some 500,000 Armenians around the world.
For more information about AGBU and its worldwide programs, please visit www.agbu.org.