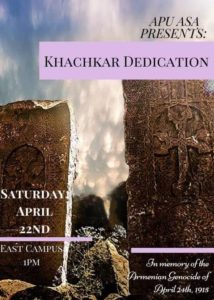 AZUSA, CA — In remembrance of the Armenian Genocide, the Armenian Student Association at Azusa Pacific University will be hosting the "Azusa Pacific University Armenian Student Association Khachkar Dedication."
The Khachkar was created to commemorate the 1.5 million lives that were lost during the Armenian Genocide from 1915-1923.
The reveal will be Saturday, April 22, 2017, at 1p.m. at East Campus of Azusa University (east side of Multimedia Classrooms, MMED 1-4 ). The address of the campus is 901 E. Alosta Ave., Azusa, CA 91702. The ceremony will be semi-formal.
The general public is cordially invited to attend to this special and memorable event. The admission is free.