YEREVAN (RFE/RL) — The ruling Republican Party of Armenia (HHK) has come under more fire following the publication of secretly recorded audio purportedly indicating that employees of one of its wealthy parliamentarians were told to campaign for his reelection or lose their jobs.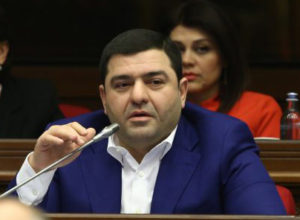 The Hayastan24.com website posted on Thursday the recording of what it called a staff meeting that was held by businessman Artak Sargsian's senior aides in the run-up to the April 2 parliamentary elections. It features the voice of an unknown man threatening to fire those employees of Sargsian's SAS supermarket chain in Yerevan who have failed to guarantee in writing that their friends and relatives will vote for the HHK member.
"For example, Anush Adamian has brought 14 votes, let's applaud Anush Adamian," says the man. "How come Anush can bring [so many votes] but Ashot Aghakhanian can't?
"Why haven't you brought votes? You don't want to? If you treat us like that, then we'll treat you five times as badly."
The man goes on to praise another woman, Irina Nazarian, who he says promised to earn Sargsian 44 votes and will be rewarded handsomely. "You'll rock the elections, get the tickets to Paris, go there, have a lot of fun, come back and your [higher] position will await you. Agreed?"
The Office of the Prosecutor-General told RFE/RL's Armenian service (Azatutyun.am) on Friday that it is "examining" the 40-minute audio which was swiftly disseminated by Armenian media outlets and social media users. Even before its emergence, the HHK faced many opposition and media allegations of foul play in the elections.
Sargsian, who managed to secure reelection in a Yerevan constituency, did not comment on the embarrassing recording as of Friday evening. The 43-year businessman has held a seat in Armenia's parliament since 2004. He has not made public statements on the parliament floor for at least five years.
Sargsian and other wealthy HHK candidates running for the parliament already faced last month media allegations that they are bullying their workers and bribing many other voters for electoral purposes.
The HHK's parliamentary leader, Vahram Baghdasarian, reacted cautiously to the scandal. He said that law-enforcement bodies should determine whether the audio is authentic and, if so, whether Sargsian was aware of the staff meeting.
"Journalists and political forces are quite inventive these days," said Baghdasarian. "So it may have been a ploy. But I don't rule out anything. We will address this topic after the examinations."
At least one opposition group, the Congress-HZhK alliance, seized upon the recording, calling it further proof that the ruling party illegally used its administrative and financial levers to win the April 2 elections. The Congress-HZhK's Aram Manukian said the alliance will use the audio in its appeal to the Constitutional Court aimed at annulling the official vote results.
In their preliminary report on the elections released on April 3, European observers cited "credible information about vote-buying, and pressure on civil servants and employees of private companies."