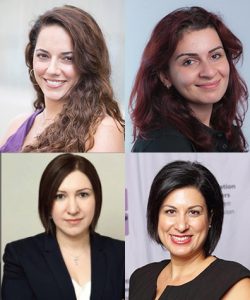 LOS ANGELES — The first major event of the year hosted by the Los Angeles Affiliate of the Armenian International Women's Association will be a Panel Symposium and Luncheon to be held on March 4, 2017. This special Symposium "Pathways to Leadership" follows the successful 25th Anniversary Leadership Conference in Cambridge, Massachusetts and brings to Los Angeles the outstanding women leaders who have achieved recognition and distinction in their chosen profession. The Symposium will begin at 10:30 a.m. at The Armenian Society of Los Angeles, 112 South Louise Avenue, Glendale, followed by luncheon at 12 noon with a Keynote Speaker.
Silva Katchiguian, President of AIWA-LA, reports that this Symposium will afford members and guests the opportunity to come and experience highlights from the 25th Anniversary celebration and to hear from the stellar conference participants. Katchiguian states "They are pioneers who are making a difference in the fields of arts and entertainment, politics and law, science, technology and journalism. Women leaders who continue the work of women's empowerment with faithful dedication, commitment and passion."
The panel will be moderated by Monique Svazlian Tallon who specializes in executive coaching and training to empower next-generation women leaders. Tallon is CEO of Higher Path Consulting and the author of "Leading Gracefully: A Women's Guide to Confident, Authentic and Effective Leadership" and founded the Women & Power Leadership Forum. She also writes for the Huffington Post on issues related to diversity and inclusion and women's leadership. She will be offering her books for sale.
Following is a brief resume of the panelists:
Sona Movsesian currently serves as the Executive Assistant for Conan O'Brien. Movsesian worked with O'Brien on "The Tonight Show with Conan O'Brien and then accompanied him on the "Legally Prohibited from Being on Television Tour." The two of them recently visited Armenia and filmed their adventures for a special that aired on TBS for O'Brien's talk show Conan. Movsesian was born into a close-knit Armenian community in Montebello, CA and is a proud Angeleno.
Lilit Yenokian is a Senior Software Engineer at Netflix responsible for the quality and the speed of delivery of mobile applications. She has led cross-functional and cross-departmental initiatives at Netflix and worked on improving the quality of video streaming. Besides being actively involved in the tech innovation segment of San Francisco Bay Area, Lilit is a member of the AIWA/SF affiliate and devoted member of the Armenian community. Lilit is also a community leader of ABI.Local Silicon Valley.
Anna Menedjian is a former journalist with an extensive background in law, business and leadership. She is the founder and CEO of California Women's Law Center, a mass Torts Litigation Management firm and the National Association of Women Business Owners, L.A. Board. She is also a Mayoral Blue Ribbon Commissioner and Ambassador to the Los Angeles Sparks. She regularly mentors students from her alma mater Pepperdine University's Project E(x)ternship program.
The AIWA-LA Board is proud to announce that Marta Houske, the Producer, Director and Writer of "Crows of the Desert – a Hero's Journey through the Armenian Genocide," will be the Keynote Speaker at the luncheon. An Emmy Award winner film director/producer, Marta Houske spent nearly four years creating this unique film uncovering extraordinary and rare archival footage and photographs from around the world, revealing the terror bravery of this astonishing true story of the heroic efforts of Levon Yotnakhparian that took place a century ago during the Armenian genocide. Various fascinating historical figures appear in the story including Lawrence of Arabia, Prince Faisal, Hussein El-Attrache and Sarah Aaronsohn.
Tickets for the Symposium and Luncheon are $35.00: For further information and/or reservations, please
contact Lily Balian (310) 472-2454; email: [email protected]