STEPANAKERT — NKR Authorities in Stepanakert have initiated a criminal case against Azerbaijani serviceman Elnur Huseynzade, who was captured during a failed infiltration attempt on Karabakh frontlines.
"A group of Azerbaijani servicemen, taking advantage of the foggy weather, made an infiltration attempt on February 1, 2017 in the direction of Talish village, Martakert region. The attempt was foiled by the Defense Army's units guarding the state border of Artsakh. On the same day at about 15:00 a member of the sabotage group, citizen of the Republic of Azerbaijani, servicemen of the reconnaissance company of the 157th motor rifle brigade Elnur Elman Huseynzade was detected in the combat positions of the Defense Army and taken to the National Security Service of the NKR.
Huseynzade has been detained under Article 33-317 and provision 1 of Article 350 of the Criminal Code of NKR.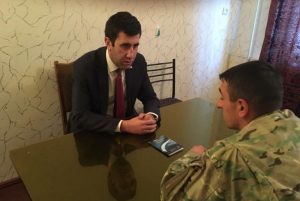 Human Rights Defender of Artsakh Ruben Melikyan has visited on February 3 with Huseynzade. The Defender made sure that azeri soldier has been provided with public defender and translator and some judicial actions have already been taken with their participation. Huseynzade has presented no complaints on his health condition or ill-treatment.
The Defender expressed readiness to assist Husaynzade within the frames of his power in the implementation of his fundamental rights, including having a defender of his choice.