NEW YORK, NY – The sequel to the humorous crowd-pleasing "Where Is Your Groom? (Pesad Oor Eh)" will debut on Sunday, March 26, 2017 at Miller Theater, a prestigious performing arts center in Manhattan.
Three years after its original debut at New York City's Players Theatre, followed by 10 performances around the country, America's favorite Armenian family returns in this funny, smart, and culturally relevant play that ties together elements of the Armenian-American experience as the Keshishian family prepares for their daughter's wedding.
Audience members last saw Lara celebrating with her overjoyed family when she finally found her "pesa," (groom), but her elation quickly diminishes at the start of the sequel when both sets of parents want to plan the wedding their own way. While the bride begins to reconsider her choices, Yaya's online dating site becomes a hit to the chagrin of her new competitor, Marie the Matchmaker. Adding more complication, Lara's "odar" (non-Armenian) ex-boyfriend plants seeds of doubt, fan-favorite Artem continues his search for a "hars" (bride) on the Bosphorus, and Lara's brother Saro is on a quest to find himself as he dodges his mother's mile-long "hars" lists.
Hailed as an "insightful, heartwarming and laugh out loud comedy," this stand-alone family story is one that touches all generations. Audiences will find familiar faces on stage as well as new ones who have joined the 20-person cast and crew consisting of active Armenian young professionals from the New York metro area.
"The combination of the play's unique humor and the matriarch Siroun's infectious personality is what attracted me to become part of this production," said Nairi Hartounian, a graduate student at New York University studying Public Relations and Corporate Communication. "It was the perfect opportunity for me to step out of my comfort zone while representing my Armenian heritage."
After seeing a performance of "Where Is Your Groom?" Nvair Beylerian was eager to join the cast for the sequel and portray a matchmaking character new to the play's canvas.
"I was drawn to the colorful character of Marie because she felt so familiar to me. What would our Armenian community be like without well-meaning matchmakers and busybodies?" said Beylerian, award-winning musician and creator of HYEfamily, providing educational Armenian music for children. "I'm so honored I was cast in this play along with such wonderful talent. I leave each rehearsal with new insight and laughter in my heart."
For Harout Nalbandian, who is originating the role of the groom's father, he appreciated the connection between his character and his own family, so much so that he commutes from Philadelphia to attend rehearsals and participate in this artistic endeavor.
"My character Khatchig is a basterma master and my father was a baker in Haleb," said Nalbandian an accountant and actor. "And like my character, my father had a lot of pride in his recipes and love for his family."
While the new characters add a layer of richness and bring a fresh perspective to the production, original cast members are equally enthusiastic to be part of another chapter in their characters' journeys.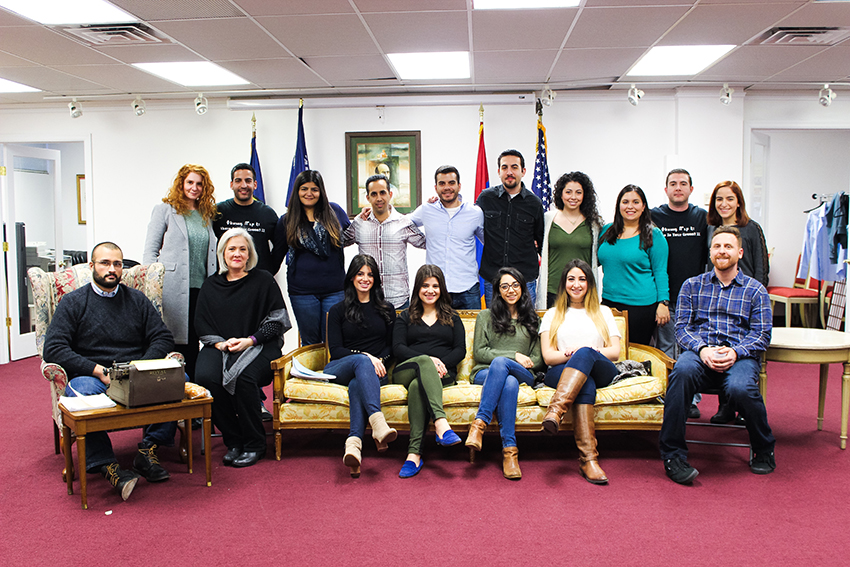 "In every city we performed, the response was incredibly positive, which is why it's so exciting for my cast mates and me to give life to our characters one more time," said Lori Cinar, who is pursuing a Master's degree in speech pathology. "Through this production, I get the opportunity to further the Armenian literary and artistic tradition, which is among one of the richest legacies we can carry on. The chance to play Yaya the grandmother once more, as a representation of the women we all hold dear to us, is a source of pride for me and I'm certain this play will give audience members of all ages something to relate to."
The cultural relevance and accolades from audiences is what drew Taleen Babayan to write and direct a second part to the "Where Is Your Groom?" story.
"As Diasporan Armenians we're living in a time of change and it's important to convey these contemporary issues through the arts in order to spur dialogue and create a more viable and forward-thinking community while preserving our cultural traditions," said Babayan.
"As a society we are conditioned to think the story ends with a proposal. In my opinion, that's where the story begins."
"Where Is Your Groom? (Pesad Oor Eh) Part II" will debut on Sunday, March 26 at 4 p.m. at the Miller Theatre and promises a night of laughs and entertainment while taking a closer look at Armenian-American life in the Diaspora. Tickets and more information are available at https://whereisyourgroom.ticketbud.com.