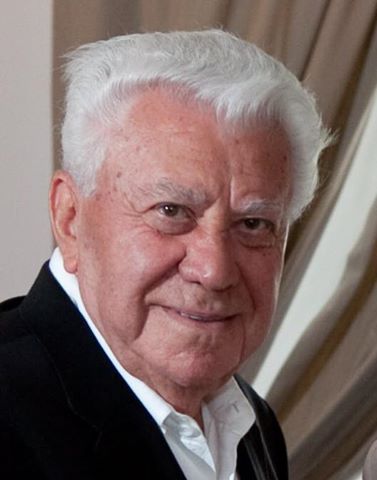 MONTEBELLO, CA — The Armenian community has suffered a great loss this week as community leader and activist Michael (Mkhitar) Minasian passed away at his home in Montebello, California on January 17, 2017. Memorial services will be held at 11am on Saturday, January 28th at Holy Cross Armenian Apostolic Cathedral, 900 West Lincoln Avenue in Montebello. Burial and graveside services will follow at Calvary Cemetery in East Los Angeles, after which a memorial luncheon will be hosted at the Bagramian Hall adjacent to Holy Cross Armenian Apostolic Cathedral. Memorial donations may be made to Armenian Monument Council, P.O. Box 1935, Montebello, CA 90640.
Michael Minasian was born in 1931 in an Armenian village near Varantzov, Russia to Sukias and Rehan, survivors of the Armenian genocide from the Alashgerd area in historical Armenia. In 1944, towards the end of the Second World War, he left Russia with his family and traveled as displaced persons with the retreating German army. From 1945 through 1949, his family settled temporarily in a camp in Stuttgart, Germany where over 2000 displaced Armenians amassed.
In 1949, through the sponsorship of Armenian-Americans, his family immigrated to the United States, first settling in Fresno and eventually in Los Angeles. In 1953, prior to becoming a U.S. citizen, he joined the U.S. Armed Forces, serving in West Germany as a linguist in the Psychological Warfare Department for two years. As a result of his service, he was naturalized as a U.S. citizen in April 1954 before a U.S. military court in Stuttgart.
After completing his military service, Michael returned to Los Angeles where, starting in 1955 he produced the weekly bilingual broadcast of the "Armenian Radio Hour" on various AM radio stations. For 21 years, his broadcasts became a Sunday morning staple for Southern California Armenians, presenting a program filled with Armenian music, recitation and community news.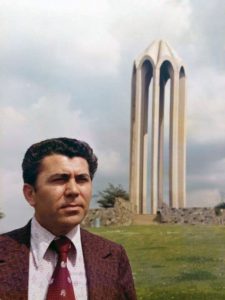 One of his greatest accomplishments was as a founding member of the Armenian Monument Council which in 1967, against tremendous political opposition by the Turkish government, spearheaded the development and erection of the Armenian Genocide Martyrs Monument atop a hill in Montebello's Bicknell Park-the first monument memorializing the victims of the Armenian genocide to be constructed outside of Armenia, the first of such monuments to be built on public land, and to-date the only such monument in the United States to achieve its substantial scale and prominent placement. Since its unveiling in 1968, for several decades he personally assumed the responsibility of all city-related and maintenance issues of the site, often covering expenses himself, including the costs to place the monument's identifying signs on the nearby Pomona Freeway–the only signs on an American public highway to display the words "Armenian" and "Genocide" together.
Most significantly, he led the successful movement to pass Armenian Genocide-related resolutions in the U.S. Congress in 1975, 1984 and 1985.
Michael Minasian is survived by his wife Arek, four children and six grandchildren.