YEREVAN (Lragir.am) — CIA has declassified 13 million pages of documents that had earlier been available only at the archive of Maryland.
According to a 18 January 1950 document, Lavrentiy Beria supervised the production of atomic bombs in the Soviet Union who had been given unlimited freedom of action by Stalin. He had chosen the area of Lake Sevan for production of atomic bombs, as experts required powerful water power plants to supply the production, and Lake Sevan with its 28 tributaries matched the requirements which were not met by the atomic cities in Ural and Siberia.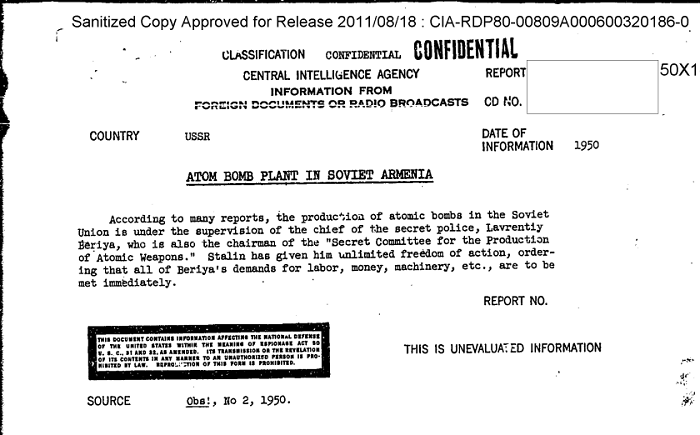 As of 1950, the area between Lake Sevan Mount Aragats and Kanair Plateau was a secret zone. The atomic bomb plants were built in six caves along the basalt shore of the river by German prisoners of war and Soviet slave labor in conformity with plans drawn up by German specialists who built Hitler's underground factories in Germany and Austria.
Part of the machinery was ordered from domestic factories, and the rest were imported from Germany.
In January 1948 transport of uranium ore from Saxony and Czechoslovakia began. Power was drawn from 10 new hydroelectric plants, as well as Dzorages and Yerevan plants. All the other industrial enterprises were forced to use minimum electric power. The technical and scientific director of the atomic station was a certain Arakelyan who was Mikoyan's school comrades and enjoyed Stalin's trust.
The first atomic bomb was completed in Armenia in February 1949, and the first explosion took place in Eastern Ural on 10 July 1949. The American and British intelligence first learned about the explosion in September of the same year.