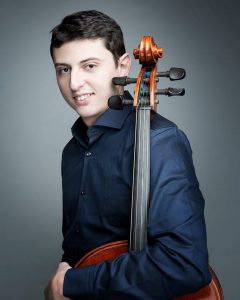 FRESNO — Cellist Narek Hakhnazaryan will perform in concert as part of the Philip Lorenz Memorial Keyboard Concert Series at 3:00PM on Sunday, January 29 in the Concert Hall on the Fresno State campus. Hakhnazaryan, who will be accompanied by pianist Noreen Polera, will be performing works by Tchaikovsky, Shostakovich, Massenet, Cassadó, and Harutyunyan.
The concert is co-sponsored by the Armenian Studies Program of Fresno State and the Thomas A. Kooyumjian Family Foundation.
Narek Hakhnazaryan was launched onto the international scene after winning the Gold Medal at the 2011 Tchaikovsky International Cello Competition in Moscow. Born in Armenia and educated at the Moscow Conservatory and the New England Conservatory of Music in Boston, he has already performed in venues such as Carnegie Hall in New York, Concertgebouw in Amsterdam, Salle Pleyel in Paris, Wigmore Hall in London, Konzerthaus in Vienna, and Konzerthaus in Berlin. Hailed as a "seasoned phenomenon" (The Washington Post) and praised for his "intense focus and expressive artistry" (The New York Times), he was recently invited to join the prestigious BBC New Generation Artists Scheme.
General tickets for the Concert are available for $25 per person, for seniors at $18 per person, and students $5 per person. Ticket reservations for the Concert may be made by calling 278-2337.
Tickets may also be purchased online at the following website: http://www.keyboardconcerts.com/special-events.aspx.
Free parking will be available in Lot P1 (Shaw and Maple entrance to campus). For more information please contact the Armenian Studies Program at 278-2669 or visit fresnostate.edu/armenianstudies.