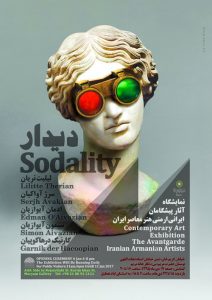 TEHRAN (Tehran Times) – An exhibition of works by some Iranian Armenian pioneers of modern art opened at Tehran's Maryam Gallery on Friday.
Entitled "Sodality", works by Lilitte Therian, Serjh Avakian, Edman Aivazian, Simon Aivazian and Garnik der Hacoopian have been put on display, Persian media reported.
In the Armenian tradition, the holy birth of Jesus Christ is celebrated on January 6.
The ceremony was attended by the Armenian Archbishop of Tehran, Sebouh Sarkissian, and director of the Art and Cultural Organization of Tehran Municipality Mahmud Salahi.
In his brief words at the ceremony Salahi said that the Christian artists of Iran narrate the history of Iran through their arts, adding, "I see no separation between my compatriots, we have been together and fought against the enemy during the (Iran-Iraq) war and some of the martyrs are Iranian Christians.
"Now, the relations between Iran and Armenia are good and visa requirements for both citizens have been lifted. Iran emphasizes peaceful coexistence with all the people in the world. I hope the artists can help draw the attention of the world to peace and friendship," he added.
Armenian Archbishop of Tehran Sebouh Sarkissian expressed his congratulations over the arrival of the New Year and the birth anniversary of Jesus.
He also thanked the organizers of the exhibit and said that the Armenians (Iranian Christians) have made good progress in art with over 90 masters of art.
The opening ceremony ended by honoring the artists whose works have been put on display.
The exhibit has been arranged in collaboration with the Ardak Manoukian Museum in Tehran and will be running until January 11 at the gallery located at Maryam
Park on Nejatollahi St., off Karimkhan Ave.