LOS ANGELES – Glendale Adventist Medical Center (GAMC) and Armenia Fund, held a joint medical mission providing free medical services and advanced surgeries, from October 13-20, 2016 in Noyemberyan, Armenia's most remote borderline city, 2km from the border with Azerbaijan and Georgia.
The medical mission was a result of joint, careful planning between the two organizations since March 2016. Led by the hospital's President/CEO Kevin Roberts, the medical mission team consisted of 42 doctors, surgeons, nurses, and healthcare professionals from the United States.
In order to ensure optimal operational efficiency, an advance team of medical professionals from GAMC arrived at the Noyemberyan Hospital prior to the start of the medical mission to help prepare the medical and surgical equipment, supplies, and pharmaceuticals that were donated to the Noyemberyan Hospital within the framework of the project. Armenia Fund transported 2.5 tons of supplies, months in advance and oversaw its clearance to Armenia.
Building upon last year's successful mission, GAMC tripled the surgical service line of the mission to include ophthalmological, gynecological, orthopedic surgeries, in addition to the general and oral/maxillofacial surgeries. After 5 days of back to back operations, the total number of surgeries reached 110 – an unprecedented record even in Armenia's history.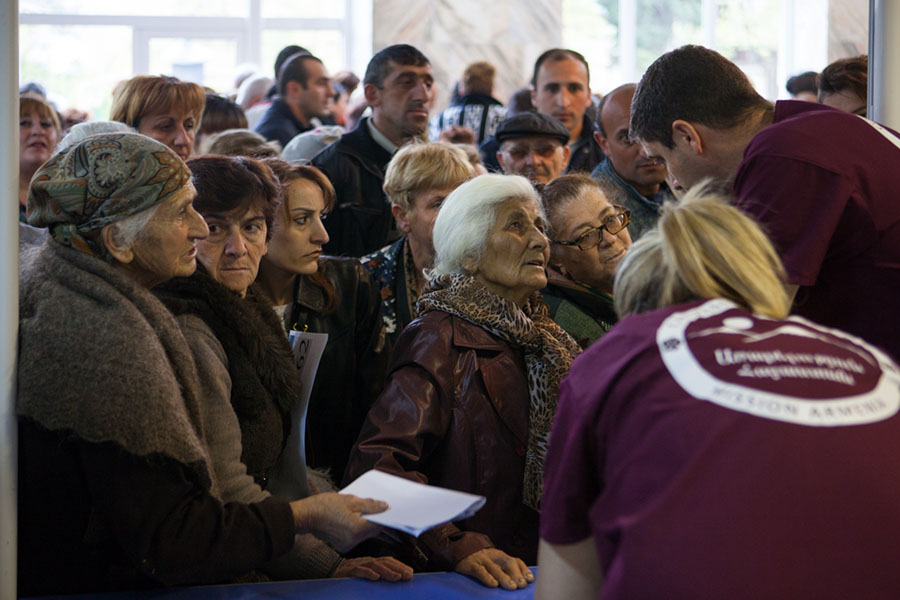 The mission significantly expanded service lines for women's health, most importantly screenings for cervical cancer, a leading and growing cause of death in Armenia, especially amongst the rural population. The mission was able to perform these screenings by collecting pap smears and having them analyzed and read by the team pathologist from the United States. Physicians would later interpret the results to Noyemberyan patients and provide further care.
"The difference between last year and this year was phenomenal. We learned so much and applied those lessons for about a three-fold result! The people of Noyemberyan are so appreciative of these missionaries and our missionaries appreciate them! There is no greater joy in life than using your God-given talents to bless others, without expecting anything in return. It is pure joy and at the same time thoroughly exhausting. We can't wait to do it again next year!" stated Kevin Roberts, CEO/President of Glendale Adventist Medical Center.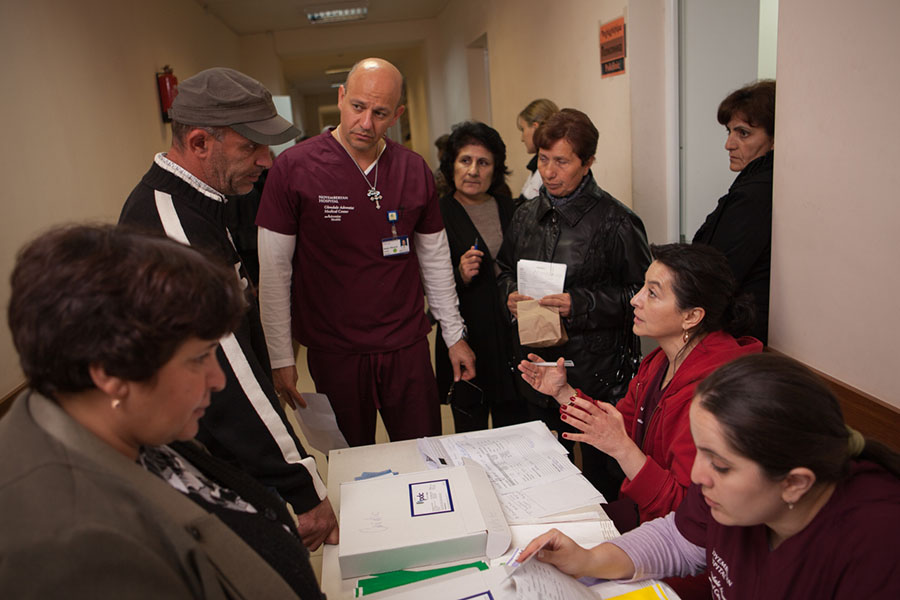 The clinic saw more than 1700 patients during the week-long medical mission. Specialists from GAMC thoroughly screened patients and provided free, high quality medicines to treat various illnesses and conditions. 220 orthopedic interventions were performed during the mission.
"Armenia Fund draws a long history of touching peoples' lives in so many ways. Our partnership with the Glendale Adventist Medical Center has taken this to another level – by making it more personal and directly impacting the quality of peoples' lives. Thanks to this continuous program and teaming up with the best healthcare professionals in the U.S., we expect to reach new heights every year – all with the purpose of serving the people who live in the most rural and challenging areas of Armenia," stated Maria Mehranian, President of Armenia Fund U.S. Western Region.
"The Glendale Adventist Medical Center initiative is much more than a humanitarian relief effort, as it helps restore what is most precious to people: their health, thanks to which they are able to regain their strength and confidence. As a result of this wonderful mission, nothing less than our beneficiaries' quality of life is being raised, and that makes our work all the more worthwhile. The partnership between Glendale Adventist Medical Center and Armenia Fund U.S. Western Region is unprecedented, and, I hope, will continue well into the future," stated Ara Vardanyan, Executive Director of Hayastan All-Armenian Fund of Yerevan, Armenia.
Following the completion of the mission, the GAMC team was received by Prime Minister Karen Karapetyan and Health Minister Levon Altunyan at the prime minister's office. Both expressed high praise for the work of the medical professionals, as well as the leadership of GAMC and Armenia Fund. In his remarks, the prime minister also emphasized the importance of the mission "as an endeavor that fosters a new culture of professionalism in Armenia."