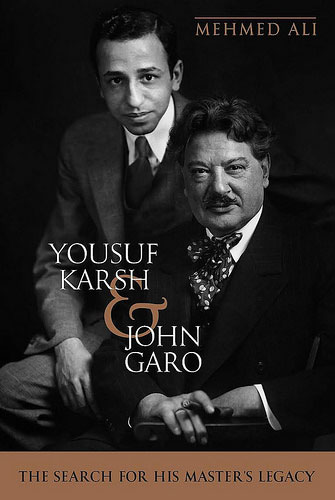 MISSION HILLS, CA — Mehmed Ali of the University of Massachusetts, Lowell, will present an illustrated talk entitled "The Search for a Master's Legacy: Yousuf Karsh & John Garo," on Thursday, October 13, 2016, at 7:30 p.m., at the Ararat-Eskijian Museum-Sheen Chapel, 15105 Mission Hills Road, Mission Hills, CA.  The lecture is sponsored by the Ararat-Eskijian Museum, the Kharpert Cultural Association, and the National Association for Armenian Studies and Research (NAASR).
The Search for a Master's Legacy: Yousuf Karsh & John Garo presents the story of two famous Boston photographers who became international figures as a result of their artistic expression through the lens.  Drawing on meticulous research and on Karsh's personal correspondence, author Mehmed Ali brings to life this intensely human journey, and the little known story of John Garo's stellar role in the history of photography in New England.
When President Calvin Coolidge was asked to choose between the artist John Singer Sargent or the photographer John Garo to make his official presidential portrait, Coolidge chose Garo.  Many books have been written by and about Karsh over the past half century.  But little is known about Garo, the man who made Karsh possible.
Mehmed Ali hails from Lowell, Massachusetts, where he currently works as the municipality's City Historian.  He received bachelor's and master's degrees in political science from the University of Hawaii and his doctorate in history at the University of Connecticut.
For more information about Mehmed Ali's talk, contact the Ararat-Eskijian Museum at (747) 500-7585 or Ar[email protected], or NAASR at (617) 489-1610 or [email protected].