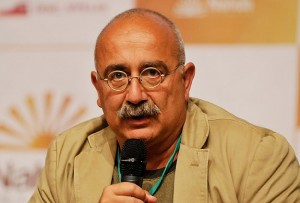 ISTANBUL (Agos) — Linguist and writer Sevan Nishanian is awarded with William Saroyan Medal by Armenian Ministry of Diaspora. Sevan Nishanian has been under arrest since January 2014 on the ground that he carried out "unlicensed construction work" in his private property. His lawyer Ergin Cinmen accepted the medal on behalf of Nishanian.
In the ceremony held in Istanbul on September 23, Aragats Akhoyan, an independent deputy from Armenian parliament, handed over the medal.
Armenians from Armenia, diaspora and Turkey, CHP Istanbul MP Selina Dogan, human right defenders, journalists and writers attended the ceremony.
Hrant Kasparyan, member of International Committee for Freedom and Justice for Sevan Nishanian gave the opening speech. After that, lawyer Ergin Cinmen provided information about the lawsuits against Nishanian and the ongoing legal progress.
Nishanian's mother Sona Nishanian also spoke through video call. She said that she wants to consider this medal as a promising development in terms of his son's release. Selina Dogan stated that she hasn't received any response to her parliamentary question about Nishanian, which was addressed to Ministry of Justice.
In the ceremony, solidarity messages from Armenian National Committee of America. (ANCA), Armenian Council of Europe (ACE), German historian, scholar and author Prof. Dr. Tessa Hofmann and historican Taner Akçam were also read.