YEREVAN (RFE/RL) — Armenia's leaders and Georgia's Prime Minister Giorgi Kvirikashvili hailed rapidly growing trade between their countries and called for its further expansion when they met in Yerevan on Monday.
Kvirikashvili held talks President Serzh Sarkisian and Prime Minister Hovik Abrahamian during an official visit to the Armenian capital.
Sarkisian told him that Georgian-Armenian relations should be deepened "in all areas" and raised to a "qualitatively new level." According to a statement by Sarkisian's office, Kvirikashvili agreed, saying that the increasingly "active" Georgian-Armenian economic ties bode well for that.
Kvirikashvili and Abrahamian were reported to praise "positive dynamics" in Georgian-Armenian trade at their separate meeting held earlier in the day. The Armenian premier spoke of "noticeable progress" in relations between the two neighboring statements.
"In recent years, Georgian-Armenian relations have been characterized by positive progress," an Armenian government statement quoted Kvirikashvili as saying. He praised the "high level of cooperation in the economic field."
According to Armenian government data, Armenia's trade with Georgia rose by 17 percent in 2015 and as much as 63 percent in the first half of this year, even if it remained rather modest in absolute terms.
The rapid growth followed the 2014 signing of Georgia's far-reaching Association Agreement with the European Union and Armenia's controversial accession in January 2015 to the Russian-led Eurasian Economic Union (EEU).
The EEU membership requires the Armenian authorities to gradually adopt significantly higher duties that are collected by Russia, Belarus and Kazakhstan from goods imported from third countries. But contrary to many expectations, Armenia appears to have succeeded in maintaining its free-trade regime with Georgia and Armenia.
Abrahamian suggested on Monday the creation of Armenian-Georgian joint ventures in Armenia that would have tariff-free access to the Russian and other EEU markets. "Georgia's prime minister welcomed the idea and proposed to discuss further steps in the format of a joint task force," a read a statement released by his press service.
The statement said the two prime ministers also noted that the ongoing construction of a new bridge at the main Georgian-Armenian border crossing is proceeding according to plan. The two governments agreed to build it in 2014. They said the "friendship bridge" will facilitate bilateral commerce and travel.
Abrahamian and Kvirikashvili also discussed the planned construction of a new high-voltage transmission line connecting their Armenian and Georgian power grids. The $105 million facility should lead to a sharp increase in mutual electricity supplies.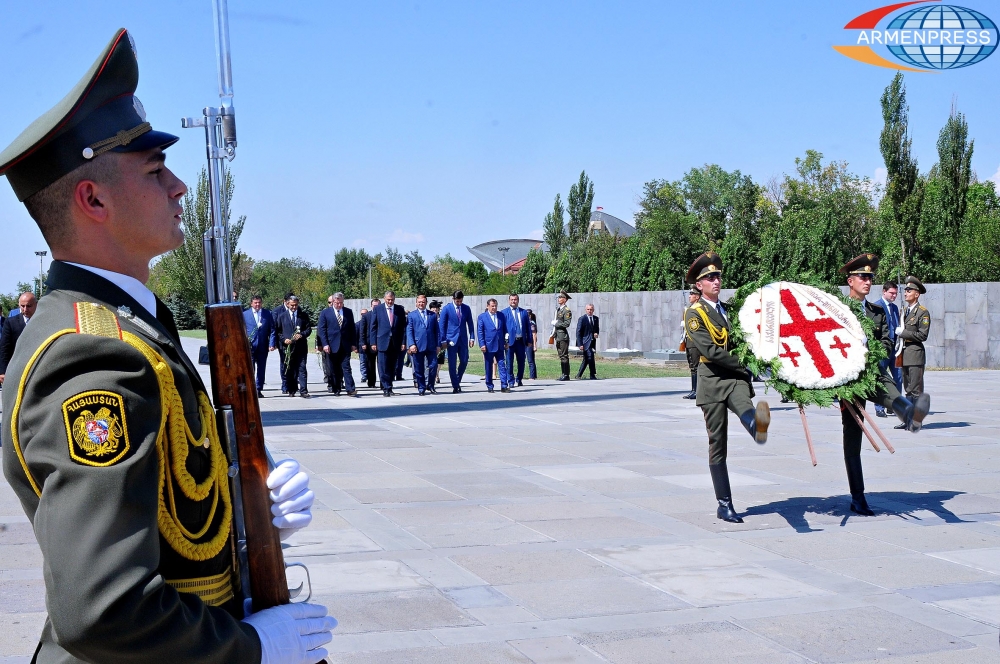 Georgian PM Pays Tribute to the Memory of Armenian Genocide Victims
Georgian Prime Minister Giorgi Kvirikashvili visited the Tsitsernakaberd Memorial today to pay tribute to the memory of the Armenian Genocide victims.
The Prime Minister laid a wreath at the memorial, toured the Armenian Genocide Museum-Institute and left a note in the guest book.
Giorgi Kvirikkashvili also planted a fir tree at the Memory Alley.