BOSTON – Twenty-five years ago, a group of Armenian-American women in the Greater Boston area came together to form a new and independent organization, the Armenian International Women's Association (AIWA), designed to unite Armenian women and to address the critical issues facing them everywhere.
To celebrate these first twenty-five years, AIWA is finalizing plans for an Anniversary Celebration Weekend on September 30 to October 2 at the Charles Hotel in Cambridge, Mass., on the theme of "Inspiring Our Future, Honoring Our Past." Under the leadership of the co-chairs Carolyn Atinizian Yardemian (East Coast) and Silva Katchiguian (West Coast), a two-day conference on Friday, September 30 and Saturday, October 1 will focus on "Women in Leadership: Challenges and Opportunities." During sessions on Women in Public Service, Women in Arts and Entertainment, Women in Science and Technology, Women in Business and Entrepreneurship, and Cultural Identity, attendees will have the opportunity to participate in panel discussions with national and international speakers, network, and connect with others.
The highlight of the weekend will be the Gala Anniversary Celebration on Saturday evening, October 1, at the Charles Hotel, with a cocktail reception, dinner and dancing.
"Our Gala dinner on Saturday evening will be an exciting event, with an outstanding program.  In the course of the festivities, achievement awards will be presented to extraordinary women and guests from all parts of the world will be coming together to join the celebration," said Co-Chair Carolyn Atinizian Yardemian. "An opportunity not to be missed, this special evening will endure in our memories and those of our families forever."
Special guests participating in the weekend activities include Katherine Sarafian, producer at Pixar Film Studios, who won an Oscar for her film "Brave"; Mary Lou Papazian, Director of the Tumo Center for Creative Technology in Yerevan; Dr. Carla Garabedian, documentary filmmaker, writer, and broadcaster; Nicole Vartanian, Director of the Children of Armenia Fund; and Maro Matosian, Director of the Women's Support Center in Yerevan. Two parliamentarians have been invited: Selina Dogan, of the National Assembly of Turkey, and Valerie Boyer, Deputy in the National Assembly of France.
 "With our dynamic speakers, the conference is bound to inspire attendees to gain valuable knowledge from leaders in government, business, and community as they share their path to leadership," said Co-Chair Silva Katchiguian. "Attendees will also have the opportunity to network and participate in interactive discussions and break-out sessions to develop and encourage personal and professional growth."
Other weekend events include a Welcoming Wine Reception on Thursday evening, September 29; a Mix and Mingle Reception at the Regatta Bar (with entertainers Sylvie Zakarian, Serena Tchorbajian, and Jasmin Atabekyan) on Friday Evening, September 30; and a Leadership Breakfast on Sunday, October 2.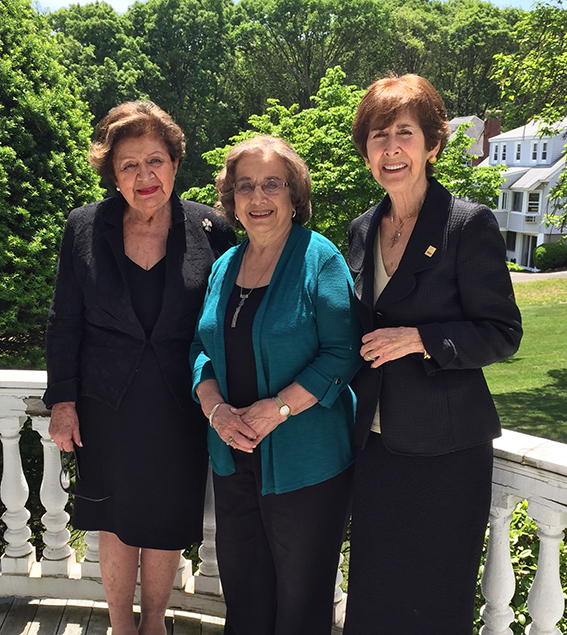 Over the past quarter-century, to promote its mission of sponsoring educational and other community programs and activities that unite Armenian women, promote gender equity, and emphasize the Armenian cultural heritage, AIWA has sponsored seven international conferences (from London to Paris, Yerevan, Geneva, Buenos Aires, and San Francisco); put together countless seminars, workshops, receptions, concerts, and plays; published 12 books by and about Armenian women; formed a number of affiliates (notably in Los Angeles, San Francisco, Chicago, and New Jersey); developed a worldwide membership; and established representation as a Non-Governmental Organization at the United Nations in New York City.
Major AIWA programs to benefit Armenian women include scholarship awards to female students of Armenian descent in colleges and universities across the United States and around the world, and grants for various programs in Armenia over the years, including currently the Women's Entrepreneurship Program at the American University of Armenia and the Women's Support Center in Yerevan.
"When we announced the formation of AIWA 25 years ago, we were told that there was no need for another Armenian organization, that the community already had too many organizations," recalled Barbara Merguerian, who along Eva Medzorian and Olga Proudian is a founder of AIWA.
"But we pointed out that as an independent non-profit, non-political organization, established and run by women and for women, we provide our own unique perspectives, and the enthusiastic response to our initiatives over the years demonstrates the importance of our work," Merguerian continued.
While the weekend is designed to celebrate AIWA's first 25 years, it is equally important as an opportunity to consider new plans and activities to meet the needs and challenges of a rapidly changing world and dynamic Armenian communities in the homeland and diaspora.
"We envision the next 25 years to be filled with possibilities unimaginable when AIWA was first founded," noted AIWA's president, Suzanne Moranian. "With technology, social media, and the increasing acceptance of women as leaders in their communities, professions, and in the political arena, there is no end to the contributions that AIWA will be able to make to enhance the power of Armenian women everywhere,"
For tickets, reservations, or further information about AIWA and its 25th Anniversary Celebration Weekend, contact the AIWA office, 65 Main St., #3A, Watertown, MA  02472; 617-926-0171; [email protected] or  www.aiwainternational.org.