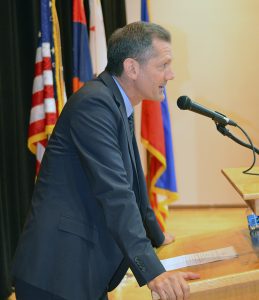 CANOGA PARK, CA — A.G.B.U. Manoogian-Demirdjian School in Canoga Park, California proudly welcomes Mr. Diron Ohanian, Esq., to the chairmanship of the school's board of trustees. Mr. Ohanian has served the board for the past decade, and has most recently acted as Vice-Chair under the chairmanship of Mr. Sinan Sinanian who will step down after 25 years as chairman.
Through his role, Mr. Sinanian helped usher A.G.B.U. Manoogian-Demirdjian School through a series of critical transitions that ensured the school's viability, longevity, and quality. This includes moving the school to its current Canoga Park campus; wiring the school with high-speed internet, SMART Boards, and other technologies; constructing new buildings; overseeing transitions in the school administration and staff; developing community relationships; and much more. He will remain an active school member, particularly with three grandsons commencing their own academic journeys at the school. During the 2016-2017 Opening Ceremony held in the Nazarian Gym, Mr. Sinanian congratulated the school for its many achievements, and welcomed Mr. Ohanian to the chairmanship, praising his passion for the school, commitment to its community, and practice of exceptional leadership skills.
Mr. Ohanian is a lifelong member of A.G.B.U. and a shareholder and managing director of the law firm Knapp, Petersen, & Clarke where his practice specializes in representing international, national, and local companies, as well as professional athletes, in a variety of business transactional, litigation, and estate planning matters. Mr. Ohanian joined the much acclaimed A.G.B.U. Valley basketball program at the age of 16 to which he credits his passion for and commitment to the Armenian community. After serving on the A.G.B.U. Southern California District Committee, he joined the school board approximately ten years ago. Mr. Ohanian was admitted to the State Bar of California in 1991 after graduating from the USC Gould School of Law. He also graduated cum laude from the University of California, Los Angeles with a bachelor of arts in economics-business. Mr. Ohanian, along with his wife Gohar, has two children: Emma, class of 2015, and Olivia, class of 2016. Emma and Olivia, both graduates of A.G.B.U. Manoogian-Demirdjian School, attend USC and are part of the Marshall School of Business.
Mr. Ohanian thanked Mr. Sinanian for his service, the Demirdjian family for their ongoing support, and the entire community for the opportunity to serve as chairman.