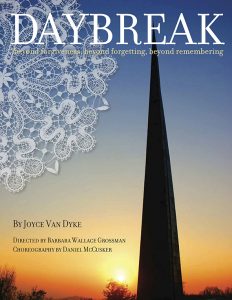 PASADENA — On June 26th, a kickoff fundraising event for the Los Angeles production of a new play about the Armenian-American story was held at the Pasadena home of Margaret and David Mgrublian. The elegant evening was sponsored by the Kharpert Cultural Association of America, Inc., under the leadership of the board; Dr. Garbis Der-Yeghiayan, Hasmig Agemian, Sato Karajerjian, Tamar Krekorian, Eve Mekerdichian, and board member emeritus, Mary Najarian.
Written by playwright Joyce Van Dyke, the play had a sold-out production in Boston under its earlier title, Deported/a Dream Play, and was honored by the Massachusetts State Legislature for its commemoration of the genocide. The play was subsequently produced at Tufts University, and had staged readings in New York, London, and Yerevan. In 2015 the Armenian Ministry of Culture funded its translation into Armenian.
Daybreak is inspired by the true stories of the playwright's grandmother and her best friend, the mother of Dr. H. Martin Deranian. The two women were deported together from Mezireh in 1915. Dr. Deranian is the well-known author of The Armenian Orphan Rug and Hussenig, among other books, and he collaborated with the author in developing the play.
Daybreak is slated for a fall 2017 production in Los Angeles, produced by Gary Guidinger and Linda Toliver, and directed by Jules Aaron. When asked why non-Armenians would be interested in doing a play about this topic, Gary stated, "This play is what we look for in the theater. It is compelling, adventurous and extremely relevant. It can open doors to a distressed world."
Daybreak's playwright and producers were special guest speakers at the dinner party which was also attended by members of Daybreak's Production Advisory Board including party host Margaret Mgrublian, Helen Haig, and Diana Hekimian; two other board members who were unable to attend were Maggie Goschin and Joan Agajanian Quinn.
"When our grandparents found their voice and told their story, little did they know that we would be here today talking about the future of Joyce's play – or how relevant it would be to today's issues," stated Helen Haig.
According to Diana Hekimian, the party gave a wonderful boost to the production fundraising goal. "Now that people know about this exciting project, we're hopeful that it will generate more interest and, in turn, more donations to bring it to fruition." The next step will be to reserve a Los Angeles venue for fall 2017.
For more information visit joycevandyke.com/daybreak-in-la.