YEREVAN (Armradio) — A museum of statues of famous Turkish political and public figures has been opened in the yard of the ancient Armenian Church of Holy Trinity in the city of Sivrihisar in Turkey's Eskesehir Province, Akunq.net reports, quoting Turkish sources.
The idea of such a museum was born back in 2011 and the project was proposed by then Minister of Culture and Tourism Ertugrul Gunay.
The statues of Mustafa Kamal Ataturk and Kazim Karabekir, commander of the Ottoman Eastern Army, are among more than 100 monuments installed in the yard.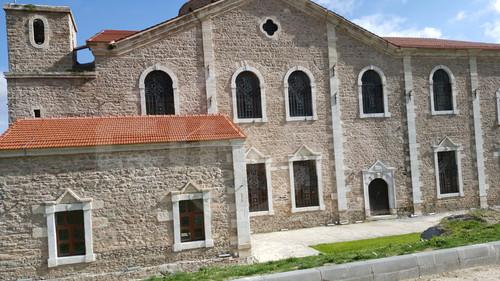 The Holy Trinity Church is a historical Armenian Apostolic Monastery in the former Armenian quarter of Sivrihisar in the Western Turkish province of Eskishehir. It was used as a store after the Armenians of the town had been deported and killed during the Armenian Genocide.
It was built in the year 1650 but set on fire in 1876. In 1881, the Holy Trinity Church was rebuilt by architect Mintes Panoyat under patriarch Nerses II. After the Armenian Genocide in 1915, the church stood empty. A restoration plan was given up in 2001, but reconstruction of the dome started in 2010. The church at the stage of building reopened.
The Holy Trinity Church itself is a rectangular basilica. The old frescoes and Armenian inscriptions inside the church are almost completely destroyed.