YEREVAN (RFE/RL) — Tens of thousands of Armenian antigovernment demonstrators have defied a police warning and gathered on Yerevan's central Republic Square after officers detained protest leader Nikol Pashinian.
Pashinian was detained during a demonstration in the Armenian capital, shortly after failed talks between him and Prime Minister Serzh Sarkisian.
Two other lawmakers were detained along with more than 230 demonstrators following 10 days of mass rallies against an alleged power grab by Sarkisian. The three lawmakers' current whereabouts are unclear.
Pashinian was confronted by masked police officers and other security personnel as he led a crowd of several hundred supporters marching to the city's southern Erebuni district. The police fired stun grenades to stop the march.
Police later tried to disperse crowds gathered in various parts of Yerevan and there were clashes reported between officers and some protesters.
Police said they detained 232 protesters by 5:30 p.m. local time(1330 GMT/UTC).
The Health Ministry said seven people were taken to hospital for problems related to the demonstrations.
More protesters were detained in the evening on the central Republic Square.
The Interior Ministry said in a statement that it made the decision to "disperse demonstrators," adding that police were "entitled to carry out arrests and use force."
The Prosecutor-General's Office earlier said that Parshinian and two other detained opposition lawmakers, Sasun Mikaelian and Ararat Mirzoian, will be held for 72 hours.
It said in a statement that the three organized unsanctioned rallies and urged supporters to block streets and entrances to state buildings. It claimed that participants of those gatherings assaulted police officers.
The statement did not say whether there will be criminal charges against the three lawmakers, who are protected by parliamentary immunity. Their prosecution would require parliament to remove their parliamentary immunity.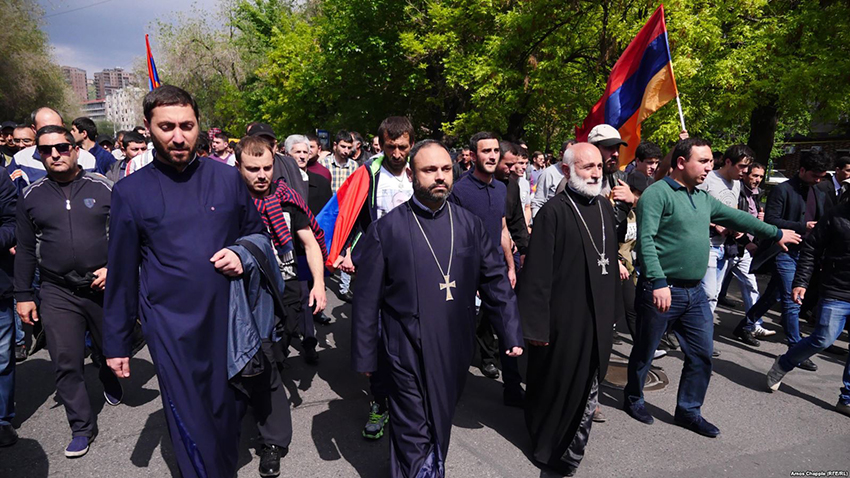 Meanwhile, thousands of Parshinian's supporters marched in the capital chanting his name. The march was led by four priests in clerical outfits.
Massive rallies intensified on Sunday evening, with tens of thousands of people filling Yerevan's largest square in the absence of detained Nikol Pashinian and other protest leaders.
The arrests led other, younger members of his Civil Contract party to organize and address what was the biggest rally held since the start of the daily protests on April 13.
Lena Nazarian, the sole parliament deputy from Civil Contract not detained yet, read out an online statement by Pashinian calling on Armenians to continue to demand Sarkisian's resignation with peaceful acts of "civil disobedience." Pashinian also urged them to avoid any violent clashes with security forces. The crowd repeatedly burst into "Nikol!" chants.
"Everything must remain peaceful," said Ruben Rubinian, a Civil Contract activist who moderated the rally.He said people must continue to block streets, hold marches and sit-ins, boycott classes and rally at Republic Square on a daily basis.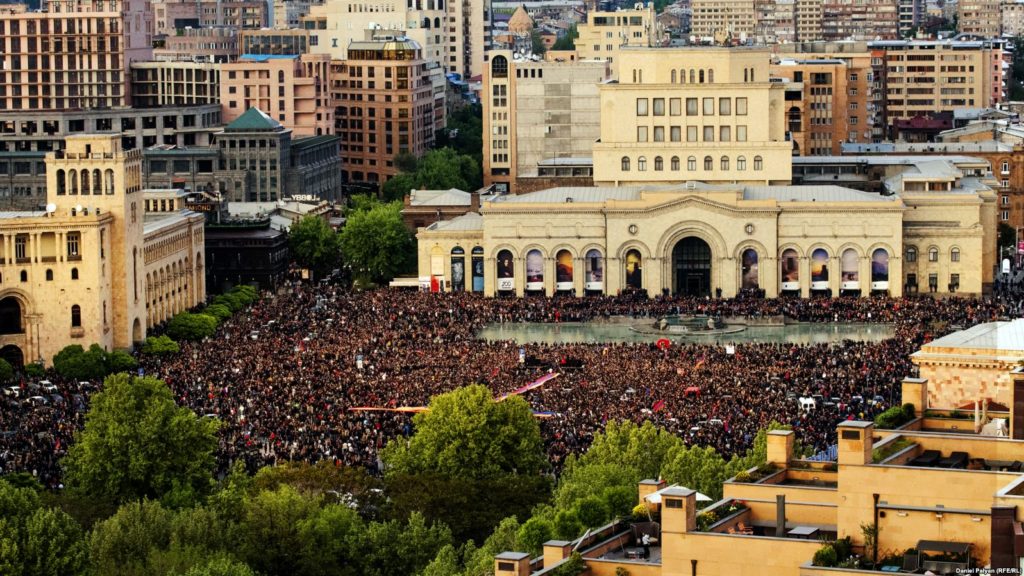 Citing safety concerns, Rubinian also made clear that all kinds of protest must end at 10 p.m. "He who stays and acts on the street after 10 o'clock has nothing to do with our movement," he said.
Pashinian's wife, Anna Hakobian, also spoke at the rally. "We must demonstrate until Serzh Sarkisian signs his resignation letter," she said. "Serzh Sarkisian, please do that quickly."
As of Sunday night, the authorities refused to specify where Pashinian is being held. Opposition lawmakers tried unsuccessfully to visit him in custody. They were only allowed to see two other Civil Contract lawmakers detained in the morning.