STEPANAKERT (Combines sources) — Twenty Armenian servicemen are dead and 26 are missing after three days of fierce fighting against attacking Azeri forces in Nagorno-Karabakh, Defense Army spokesman Senor Hasratyan told media in Stepanakert on Monday. The Armenian side has also acknowledged the loss of seven tanks in battlefields.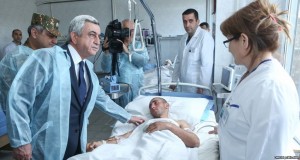 Hasratyan also said that 72 Armenian servicemen have been wounded in fierce clashes with enemy forces at northern and southern sections of "the line of contact" around Karabakh. "Azerbaijan's advancement has not exceeded 300 meters. At this point we have lost 5 military positions in the southern direction and 3 in the northern direction of the line of contact," Hasratyan said.
As for the losses of the Azerbaijani side, the Karabakh Defense Army representative said that Azerbaijan has lost 18 tanks, two helicopters, 6 armored vehicles, as well as other military hardware. The Armenian side estimates Azerbaijan's casualties at about 300, but so far Baku has admitted only 15 killed troops.
The enemy continued shelling towns and villages located close to the frontline. An RFE/RL correspondent and cameramen visited the northeastern Karabakh town of Martaker on Monday as it again came under artillery fire from Azerbaijani army positions, which destroyed several houses. Azerbaijani rockets and shells also hit two utility poles there, disrupting electricity supplies in the town. The supplies were restored several hours later.
The continuing shelling kept public schools and shops in Martakert closed and forced many local residents to hide in bomb shelters or their private basements. Some locals have left the town in recent days. The municipal administration said that it has no plans yet to evacuate the remaining population.