YEREVAN (Combined Sources) — The co-founders of 100 LIVES and the Aurora Prize Selection committee, Hollywood actor and director George Clooney has arrived in Armenia to participate in the events commemorating the 101st anniversary of the Armenian Genocide. Clooney will announce, together with other world-famous persons, the winner of first annual Aurora Prize for Awakening Humanity created in memory of the 1915 Armenian genocide.
The international award was established last year by three prominent Diaspora Armenians: philanthropists Ruben Vardanyan and Noubar Afeyan and Vartan Gregorian, the president of the Carnegie Corporation of New York. It is meant to honor individuals around the world who have saved many lives in wars, ethnic conflicts and other man-made disasters.
The prize is named after Aurora Mardiganian, an Armenian genocide survivor who witnessed the massacre of relatives and told her story in a book and film.
An international selection committee will award the prize on Sunday at a ceremony in Yerevan timed to coincide with commemorations in Armenia and its worldwide Diaspora of the 101st anniversary of the genocide.
The committee is co-chaired by Clooney and Elie Wiesel, a Holocaust survivor and Nobel prize laureate. Another Nobel laureate, Liberian peace activist Leymah Gbowee, and Australia's former Foreign Minister Gareth Evans are also among its members.
The committee selected four finalists for the first Aurora Prize from among about 200 persons last month. The finalists are Marguerite Barankitse, the founder of an orphanage in Burundi, Tom Catena, a U.S. doctor who has single-handedly treated thousands of people in Sudan, Syeda Ghulam Fatima, a Pakistani advocate of destitute workers, and Rev. Bernard Kinvi, a Catholic priest who has saved many Muslims in the Central African Republic.
The winner will receive $100,000 and designate an organization that inspired his or her work. The latter will be awarded $1 million.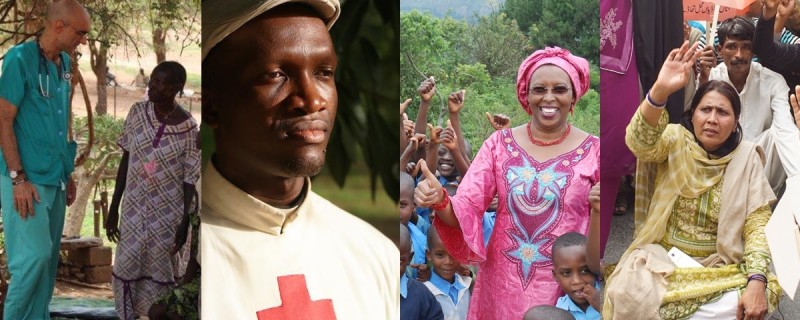 The finalists
Dr. Tom Catena is the sole doctor at Mother of Mercy Hospital in the Nuba Mountains in Sudan. An American physician, Dr. Catena is the only doctor permanently based near the country's border with South Sudan, and is therefore responsible for serving over 500,000 people in the region. Despite several bombings by the Sudanese government, Dr. Catena resides on the hospital grounds so that he may be on call at all times. His selfless acts have been brought to light by a number of media and aid organizations, and he was named one of TIME's 100 Most Influential People in 2015.
Father Bernard Kinvi became a priest at age 19, after losing his father and four sisters to prolonged violence and illness. Father Kinvi left his home country of Lome, Togo to Bossemptele, a small town just inside the border of the Central African Republic, to head a Catholic mission which consisted of a school, church and the Pope John Paul II Hospital. In 2012, civil war broke out in the Central African Republic between Muslim Seleka rebels and the anti-balaka (anti-machete) Christian militia. Amidst the violence, Father Kinvi's mission provided refuge and health services to those on both sides of the conflict, saving hundreds of people from persecution and death.
Marguerite Barankitse, from Maison Shalom and REMA Hospital in Burundi, saved thousands of lives and cared for orphans and refugees during the years of civil war in Burundi. When war broke out, Barankitse, a Tutsi, tried to hide 72 of her closest Hutu neighbors to keep them safe from persecution. They were discovered and executed, whilst Barankitse was forced to watch. Following this gruesome incident, she started her work saving and caring for children and refugees. She has saved roughly 30,000 children and in 2008, she opened a hospital which has treated more than 80,000 patients to date.
Syeda Ghulam Fatima has worked tirelessly to eradicate bonded labor, one of the last remaining forms of modern slavery. Fatima is the general secretary of the Bonded Labour Liberation Front Pakistan (BLLF), which has liberated thousands of Pakistani workers, including approximately 21,000 children, who were forced to work for brick kiln owners in order to repay debts. The interest rates are too high for workers to pay off, trapping the workers in forced labor and poor—often brutal—conditions. Fatima has survived attempts on her life and repeated beatings during the course of her activism.