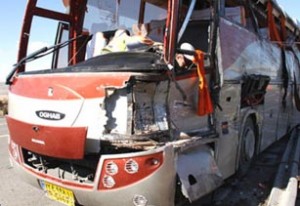 TEHRAN — Three Armenians were killed and several others were injured in a passenger bus crash in northern Iran on Tuesday.
The bus that was heading from Iran to Armenia crashed on the 30th km of the Marand-Julfa highway. Armenian Foreign Ministry spokesman Tigran Balayan cited a report from the Embassy in Tehran saying that all of the victims were ethnic Armenians with Iranian citizenship.
More than a dozen people were injured in the coach crash reportedly caused by a wheel blast.
One of the killed was identified as Deny Setaghian. Five of wounded were also identified: Hakob Martirosian, Lianna Barseghyan, Marina Petrosian, Stepanos Petrosian, Beniamin (Michael) Aghamalyan.
Thousands of Iranians come to Armenia every year during Nowruz, the Persian New Year celebrated around the start of Spring.