YEREVAN — The Armenian Genocide is not just part of the Armenian history, it's not the pain of a particular country or people, it's part of world history, George Clooney said at the Second Global Forum against the crime of Genocide under way in Yerevan.
Clooney said that he was born in a time when people had to fight for their rights, and he was brought up on those principles. He also said that after reading about the Darfur Genocide, he has decided to use his fame to help those who suffered through the horrors of genocide.
"It took a long and hard battle to finally call the things by their names. Everything is difficult, but [it happens] in time. You cannot deny what happened. You cannot bring back an entire race. [Destroying] people's culture is genocide," Clooney added.
"When someone is trying to annihilate a whole human race, culture, people, that's genocide, there can be no other version of it.
"Time and time again we repeat "Never again" after Germany, but after that we have had Cambodia, Bosnia, Rwanda, Darfur. The truth is that it happens over and over again.
"What we are doing today has two objectives. First, we have to look back into the past and remember that it's not the pain of a particular country or people, it's part of world history. Second, we need to move forward," Clooney added.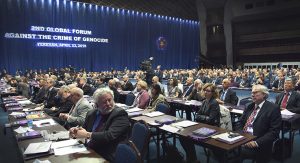 The Global Forum has brought together representatives of governments, parliaments, major international and human rights organizations, acclaimed experts of international law, representatives of the leading media, and other stakeholders. The Global Forum provides a platform for comprehensive dialogues through panel discussions, exchange of ideas during Q&A session to reveal possible workable solutions for the prevention of the crime of genocide and stop it from being part of our present and future.
The high-level panel introduced the key conference themes relating to the prevention of humanitarian catastrophes, as well as the consequences of genocide for affected populations.