MOSCOW (News.am) — The film of Armenian filmmaker Anna Melikyan has won the "Golden Eagle" prize (Russian equivalent of Oscar) in the main category of "Best Film." The award-giving ceremony took place at Russia's "Mosfilm" film studio today.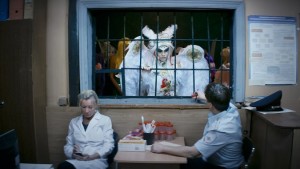 Melikyan's film – an anthology of short stories united by the topic of love – has also received a grand prize of the 26th Kinotavr Open Russian film festival.
Anna Melikyan is a Russian-Armenian film and TV director/ producer whose work has been recognized with several awards. After her participation at Sundance Film Festival she was listed in the Top 10 of most perspective film directors by Variety magazine. In 2008 Melikian's "Mermaid," (Rusalka, 2007) was awarded by the Berlin International Film Festival Prize.
According to Golden Eagle, Fedor Bondarchuk, who featured in "Ghost" was announced the best actor of 2015. Yulia Peresild, who starred in the military drama "Battle for Sevastopol" won the prize for the best actress.
Stanislav Govorukhin's was announced the best film director for his film "End of a Splendid Epoch."
Dmitri Astrakhan ("End of a Splendid Epoch") and Mariya Kozhevnikova (Battalion) went on to win the award for the best supporting actors.
Andrey Smolyakov and Victoriya Tolstoganova were announced the best TV actors of Golden Eagle (both for TV series "Executioner").
The annual "Golden Eagle" prize, whose winner is chosen by the Russia's National Academy of Motion Picture Arts and Sciences headed by film director Vladimir Naumov, has been awarded since 2002.