Published by Media Arts Space
Armenian language is one of the oldest ones in the world. Have you ever heard of Armenian script and calligraphy? There are very few specialists in this sphere and we are pleased to publish interview with Ruben Malayan, talented Armenian artist, designer, who devoted many years to studying ancient Armenian manuscripts, calligraphy and contributing to its rebirth.
Ruben, you practically resurrected Armenian calligraphy. How has it all started? Why did you become interested in studying Armenian calligraphy and what kind of complexities you faced in the process?
I want to be humble about it, but there is truth in what you said, just 5 years ago there was practically nothing done with this art, so I am proud to say the work I did pays off as more and more people become interested in Armenian calligraphy. It all began when I received a letter from New York based publishers asking if I was interested to contribute to the planned "World Encyclopedia of Calligraphy". I have done some calligraphy before, as you know I have been working in graphic design for over 20 years and letters were always important part of visual communication, but I never really spent considerable time drawing letters by hand. So it was sort of a challenge which I happily accepted. I was living in Israel then and the first thing I did was to try to amass as much material as possible. Unfortunately there was nothing about it online, but I knew there is information but its as always scattered upon many libraries. So I went to Jerusalem, then Yerevan, asked friends in academia and started my research. So yes, the main problem with Armenian calligraphy is lack of serious study.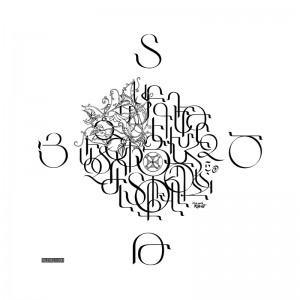 Please tell us about features of Armenian calligraphy. How did it develop historically?
We first must differentiate between miniature painting and calligraphy. When the former is focused on beautifying the letters, latter is about the letter forms. These two arts overlap significantly in Armenian culture, but we must draw the line between them to allow calligraphy to be studied as an independent discipline. Naturally if we limit calligraphy to paper, papyrus or vellum the earliest examples are found in the Armenian manuscripts, dated 7-8th century. Inscriptions in stone are older. However there is still an open question of existence of Armenian alphabet before Mashtots. Logic points that there must have been one, but we have not discovered the evidence just yet.
What's the difference between Armenian letters, their form or probably other calligraphic features, from other popular Latin or Cyrillic letters. Is Armenian calligraphy easier or harder to practice?
It's difficult to write in a language you don't speak or understand. For a non-Armenian speaker it's easy to make mistakes while writing. We must remember that only legible writing can be considered a calligraphy. And in 36 letters of classical Armenian alphabet many resemble each other closely. So one must be careful with the letter forms. Other than that, it's an art which requires a very high level of control and confidence, so if you can write beautiful Armenian, you'd probably write beautiful Cyrillic as well. It's a question of practice.
Why was Armenian calligraphy practice forgotten, if Armenia is famous for its long tradition of writing? What can be done to return it to the school system? And is it necessary at all – perhaps it should be reserved for the professionals?
Armenian classical education system taught calligraphy as a discipline. That means our ancestors knew the importance of it. As far as I know it is still taught in Persia, although I might be wrong. But existence of study books is a fact. I have located around 7-8 of them, from many different cities in Europe and Orient, including Moscow and Nor Nakhidjevan. The pioneers were of course Mkhitarists in Vienna and Venice. They have established professional print presses and started publishing books, magazines, religious and secular literature using beautiful Armenian typesets. Of course before becoming type they were drawn by hand.
If we want to preserve and evolve our culture further we should bring calligraphy back to the school system. Kids will learn whatever you show them, they deserve better and more beautiful versions of Armenian alphabet than those taught currently. But we need to do it step by step, to start with a book showing most beautiful examples of calligraphy (classical and contemporary), a book which can also serve as a guide for those who want to study it. But I do need more research and funds to accomplish that. I am optimistic.
Can it be interesting for other people and be famed like Chinese calligraphy for example? Or should we first absorb the beauty of Armenian letters ourselves?
The truth is that there is more interest toward Armenian calligraphy outside our country (and our diaspora) than here. I was in Poland and Romania this summer to teach lectures and give master classes and I can tell you that there is a lot of interest. Armenian alphabet is an enigma and it needs to be shared with the world. And we must set the bar very high, the skill level is important and there is no place for mediocrity.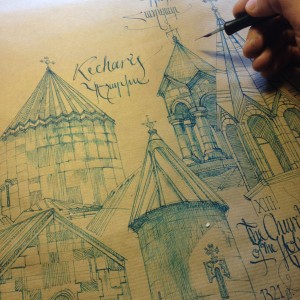 What's primary – typography or calligraphy?
Professional designers know that a letter always starts on paper. Calligraphy is the root of the typographic tree. We experiment with the letters, try to make them more balanced, have them communicate with the reader, tell a story. But there is a certain aspect of freedom when you write freely by hand. Typography has more restrictions.
Calligraphy needs patience, accuracy and quite bit of time. What do you find appealing in this art and what motivates you? What is the difficulty one is facing while writing it and what qualities can it develop in a human being?
When you draw a perfect line, perfect curve, perfect letter, you feel as if you conquered another mountain. It's the constant work toward perfection that makes it so much fun. Harder it is, more interesting it is for me. But the hardest part is to be in the right state of mind, to be able to focus and block out everything else. You need to love it, only then you can be good at it. And when you are good, you need to keep practicing, keep perfecting, keep looking for new ways to draw the same shape. I never stop learning.
What inspires you to create new calligraphic compositions?
Right now, Armenian medieval architecture and the epigraphic inscriptions. But in general – my culture is the biggest source of inspiration for me.
And in conclusion, your advice to the beginner calligraphers and those inspired by your works?
Never stop working and aim as high as possible.
Ruben's works can be found on http://15levels.com/mybest/