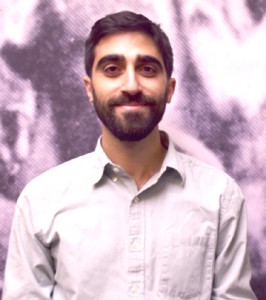 By Fernando Garcia
dailytrojan.com
Though Shoah means "Holocaust" in Hebrew, Manuk Avedikyan is working to document survivor accounts of the Armenian Genocide for the USC Shoah Foundation, which has an agreement with the Armenian Film Foundation to preserve and disseminate these testimonies.
The USC Shoah Foundation dedicates itself to documenting audio visual testimonies from survivors and witnesses of genocides throughout history. It contains nearly 53,000 testimonies in 39 languages and is conducted in 63 different countries.
"An Armenian's identity is inevitably tied to the Armenian Genocide," Avedikyan said.
Avedikyan's grandparents survived the systematic extermination of the Armenian minority in what is now Turkey. The Ottoman Turks killed around 1.5 million Armenians between 1915 and 1923 with the express purpose of ending their collective existence.
His current job came unexpectedly after speaking to Hrag Yedalian, a program administrator at the Shoah Foundation. Avedikyan wished to enter local politics at the time. However, when Hrag mentioned he was looking for an indexer for the Armenian Genocide, Avedikyan could not resist as he had been surrounded with this topic throughout his life.
Even though the genocide happened before he was born, Avedikyan said it's affected him in many ways.
"I have been surrounded by the topic of the Armenian Genocide through so many aspects of my life; from my grandparents as survivors, to my Armenian school, my Armenian history, my parents being raised in Turkey, lectures I've attended in Los Angeles since my teenage years and my college education," Avedikyan said.
Avedikyan, along with Yedalian and Visual History Archive curator Crispin Brooks, assigns keywords to each minute of testimony using the Shoah Foundation's 63,000 keyword thesaurus. He is mainly involved in indexing English, Armenian and Turkish testimonies.
Avedikyan said the testimonies add depth to history.
"Many of the testimonies are impactful in different ways," Avedikyan said. "Some due to their eloquent and unique historic details and others due to the emotion and extremely sad story."
Avedikyan described a testimony from an Armenian from Chomaklu (near Kayseri, Turkey) who was forced to march all the way to Jordan, an uncommon occurrence. Though some villages did "host" his caravan, they were essentially left to die.
The Armenian's recount of throwing his dead mother down a well is especially haunting. Death was so rampant around him that he did not even think twice about his action at that moment but regretted it years later in an orphanage in Jerusalem.
"Another testimony gives light to the attempted arrest of Armenian resistance fighter 'Murad of Sepastia' in Govdun [now Göydün], Sivas [Province] by Ottoman forces from the eyes of his sister, an incident likely not known to many historians," Avedikyan narrated. "She later discusses her forced march and escape in the Mesopotamian desert."
The third testimony describes a survivor's escape with his father and brother from Kurdish bandits and lords to the mountains of Mu. Later, he avenged his father's murder when he was captured a second time to serve as a peasant.
Avedikyan said that each testimony tells the story of the Armenian Genocide from a different perspective.
"Though these are just three out of nearly 400 testimonies, they shed light on unique historical realities and experiences that are rarely looked into or understood like escapes, orphanage life, Islamic conversion, life as a peasant under a Kurdish or Turkish landlord," Avedikyan said.
This is the first time that a significantly large collection of audio visual testimonies of the Armenian Genocide are going to be presented for the wider public's educational use. This collection also gives researchers the opportunity to ask questions about the often overlooked period of modern history that may not have been previously addressed and have them answered.
"This collection is important for the USC Shoah Foundation as we continue to expand to experiences other than the Holocaust," Avedikyan said. "The Armenian Genocide collection is the second largest in size behind the Holocaust and ahead of the Cambodia, Nanjing and Rwanda collections."
Avedikyan majored in history with a focus on the Middle East at California State University, Northridge. He also received his master's in political science and international affairs at American University of Armenia in Yerevan, Armenia, writing a dissertation about the Justice and Development Party reforms toward non-Muslim minorities in Turkey.
Avedikyan's knowledge continues to expand as he indexes the hundreds of survivor testimonies, relating them to his family's history and travels in Turkey and Armenia.