LOS ANGELES – – With more than 35 volunteer medical professionals, Armenia Fund and Glendale Adventist Medical Center (GAMC) wrapped up a successful week-long medical mission to the Noyemberyan Hospital, located in Armenia's northeast Tavush region.
The medical mission is a result of the special partnership between Armenia Fund and Glendale Adventist Medical Center with the aim of establishing a sister hospital relationship with the Noyemberyan Hospital.
The purpose of the visit, which occurred between October 17 – 23, 2015, was to offer free medical services and surgeries to the residents of Noyemberyan and the surrounding 30 villages. It also provided the opportunity for physicians, surgeons, nurses and medical professionals from Glendale to lay the foundation of this long-term partnership. In May of this year, GAMC and Armenia Fund leadership visited the Noyemberyan Hospital for a needs assessment as well as to help plan the mission.
Led by GAMC President and CEO Kevin Roberts, the 31 member medical team from Glendale performed 35 surgeries, including maxillofacial, varicose-vein, gallbladder-removal, and hernia procedures. The magnitude and scale of a mission like this had never occurred in Armenia's modern history, especially in a rural, borderline hospital. The GAMC surgical team, composed of 3 surgeons, 2 anesthesiologists, surgical nurses, scrub techs, and a biomedical engineer were working long hours in completing operations.
"As physicians, we went to Armenia to help people who are marginalized and lacking resources," said Simon Keushkerian, MD. "As an immigrant, the only way you can show that your heritage is still maintained alive and thriving is by making sure that the people who live in that country are healthy to thrive and to survive."
Children with congenital facial defects were operated on free of charge. Farmers and other rural works with hernias were able to return to work, thanks to the multiple surgeries carried out by GAMC surgeons. "I performed surgeries on several patients – oral and neck tumors, scar revisions, cleft palates," said Armond Kotikian, MD. "Patients ranged from a 10-month-old infant to senior adults. Half the patients were under age 5. I won't forget the look of gratitude on faces of their families whose children we helped to finally be able to eat and drink normally."
In addition to the surgical team, ten primary care and specialist physicians examined, treated, and provided free medications to twice as many patients as had been planned, bringing the total of the mission's beneficiaries, children and adults alike, to close to 800. Internal medicine, cardiology, pulmonary, neurology and pediatrics were particularly welcomed based on the medical needs of the community.
"We felt God's call to expand our mission of 'sharing His love' to Noyemberyan. He then blessed our service with safety, unity and effectiveness," stated Kevin Roberts, GAMC President and CEO. "Seeing the joy and relief on peoples' faces and hearing them say 'you brought hope to our community' exceeded our expectations and will propel us to return and do more. Without the partnership with Armenia Fund, we never could have accomplished this mission. Our collaboration has been perfectly complementary to our purposes."
Adventist Health (GAMC's parent health system) hospital and corporate executives donated a brand new all-wheel drive ambulance with critical life support equipment, suited to operate on unpaved roads. Armenia Fund U.S. Western Region's President Antranik Baghdassarian matched it by donating another identical ambulance. Prior to the donation, Noyemberyan had only one ambulance which would break down often and was well past its lifespan.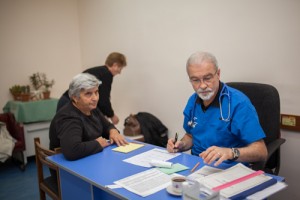 In addition, thanks to the partnership, the Noyemberyan Hospital's surgical capacity was doubled – the procedure room was converted to a complete operating room. Prior to the arrival of the mission, GAMC donated two anesthesia machines, complete with its monitors and accessories. This came in addition to the 2.5 tons of medical supplies and equipment donated to the Noyemberyan Hospital by GAMC.
"The biggest accomplishment of the trip was confidence building for Armenia. GAMC and the Armenia Fund created an important link with the people by being there with so much force to show what we did and what can be done. It was amazing," said Harout Mesrobian, MD. "I can do only so much on my own, but by doing it under this team…it was a unique opportunity."
Armenia Fund coordinated the mission activities with the Ministry of Health of Armenia. The group was received by the Honorable Dr. Armen Muradyan, who welcomed the efforts of Armenia Fund and the Glendale Adventist Medical Center in enhancing rural medicine in Armenia, especially in the Tavush Region.
Upon completion of the medical mission, the group was received by the President of Armenia, Serzh Sarkisian who personally thanked all professionals for volunteering their time and efforts in helping an area very important to Armenia.
"I would like to personally thank each and every team member on this medical mission. The Glendale Adventist Medical Center, along with its President Kevin Roberts, wholeheartedly served our brothers and sisters in Armenia. Thanks to the efforts of GAMC and Armenia Fund, the whole concept of a medical mission was really re-defined. It raised the bar for missions in Armenia with a new, higher standard. Whether it was linking Noyemberyan and GAMC via telemedicine or enhancing the surgical capacity of the hospital, this mission has always had an eye to the future," states Antranik Baghdassarian, Armenia Fund President.