YEREVAN (RFE/RL) — The U.S. government has stressed the economic significance of a new multimillion-dollar gold mining project implemented in Armenia by American and other Western investors, while urging them to minimize the resulting environmental risks.
Richard Mills, the U.S. ambassador to Armenia, joined Prime Minister Hovik Abrahamian and Energy and Natural Resources Minister Yervand Zakharian in visiting the Amulsar deposit in the southeastern Vayots Dzor province at the weekend.
After years of preparation, a British company, Lydian International, is poised to start mining gold there. Its Armenian subsidiary, Geoteam, expects to extract some 10 million tons of ore containing 7.8 tons of gold from the deposit annually.
This production volume should make Amulsar the second-largest gold mining operation in Armenia. The country's largest gold mines are operated by a Russian company, GeoPro Mining. The U.S. Global Gold Corporation is another major player in the sector.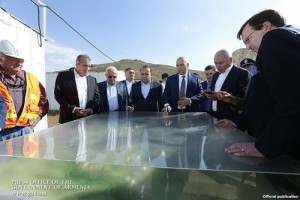 Senior Geoteam executives briefed Abrahamian, Zakharian and Mills on details of the project, notably its socioeconomic and environmental impacts. The Armenian government's press office cited them as saying that Lydian plans to invest $426 million and create 770 permanent jobs at Amulsar in the coming years. They said the project will also generate around $490 million in tax revenue over the next decade.
A separate statement released by the U.S. Embassy in Yerevan on Monday emphasized that the Amulsar project represents "the largest international investment in Armenia."
"Ambassador Mills emphasized that the opening of this mine is an important economic opportunity for Armenia, and underscored the equal importance of ensuring that potential harm to the environment is minimized," read the statement. "In that regard, Ambassador Mills mentioned that Lydian International is known for utilizing responsible mining practices that adhere to international environmental standards."
The U.S. envoy went on to express hope that the Amulsar project will demonstrate that "it is possible to find a balance between economic and environmental interests."
The remarks seemed addressed to Armenian environment protection groups that remain strongly opposed to open-pit mining at Amulsar. In particular, they cite the gold deposit's proximity to Jermuk, the country's largest and most famous spa resort.
Lydian has repeatedly sought to dispel these concerns, saying that it will use advanced technology and strictly adhere to environmental safety standards. Its chairman, Howard Stevenson, vowed last December to implement an "exemplary mining and investment project."
The Washington-based International Finance Corporation and the European Bank for Reconstruction and Development have lent credence to these assurances by buying major stakes in Lydian. The company's shareholders also include U.S., Canadian and European investment funds.
The British company is going ahead with the project despite a continuing fall in the international price of gold. The price has tumbled by around 34 percent in the last three years.
GeoPro Mining has sought to offset this trend by boosting output at its Sotk mines in the eastern Gegharkunik region and a smelter located in the southern town of Ararat. The Russian company claims to have invested $140 million in modernizing those facilities since 2011.
Armenian gold exports rose by 10 percent to almost $60 million in January-September 2014, according to the national customs service. In physical terms, they were up by almost 50 percent.