YEREVAN (RFE/RL) — A prominent member of the ruling Republican Party of Armenia (HHK) on Thursday accused tax authorities and Gagik Tsarukian, one of the country's richest men, of deliberately causing the collapse of his biggest business.
Ashot Aghababian spoke after an Armenian court declared bankrupt a big clothing market in Yerevan and the adjacent Hrazdan football stadium owned by him. The court acted on a lawsuit filed by market personnel demanding payment of their back wages. Aghababian claims to be unable to pay those wages because his once lucrative business has essentially stopped generating revenue.
The market's troubles began after it was raided by tax officials and fined 60 million drams ($125,000) early this year due to alleged tax evasion. Aghababian rejected the accusations, challenging the punitive measure in court.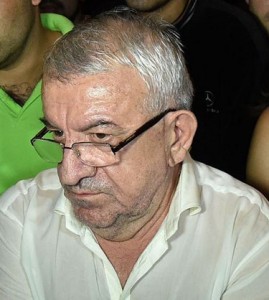 The businessman, who also holds a seat in the Armenian parliament, suffered a further blow when Tsarukian lured most of the market traders to a new trading center which he opened near Yerevan in April, two months after being forced by President Serzh Sarkisian to retire from politics. The center has hundreds of small shops run by traders specializing in sales of imported clothes. They will pay no rent for the commercial space for the next three years.
Aghababian claimed that Tsarukian as well as Finance Minister Gagik Tsarukian are primarily responsible for his woes. "I don't know that I had done to them to deserve such treatment by them," he told RFE/RL's Armenian service. "Every business must be ethical. All of my businesses have been ethical. Let them think of their own immoral businesses."
A spokeswoman for Tsarukian, Iveta Tonoyan, brushed aside Aghababian's allegations. "Gagik Tsarukian acted not to the detriment of someone but for the benefit of hundreds of families who had trouble making a living," she said.
Aghababian got in trouble with tax authorities despite being one of the longest-serving senior members of the HHK. He is also a brother-in-law of one of the ruling party's deputy chairmen, parliament speaker Galust Sahakian.
The businessman insisted earlier that he will not ask the HHK leadership and Sahakian in particular to help salvage his businesses. He underlined his unhappiness with the Armenian government during recent demonstrations in Yerevan against a controversial energy price hike. Aghababian made a point of visiting the scene of the protests and praising their mostly young participants.
Most members of the HHK's parliamentary faction are wealthy individuals with extensive business interests. Many of them have long been suspected of enjoying privileged treatment by the government.