YEREVAN — European Council President Donald Tusk met with Armenian leaders in Yerevan on Monday, reaffirming the European Union's readiness to continue deepening relations with Armenia despite its recent accession to Eurasian Economic Union (EEU) bloc.
Tusk said Brussels and Yerevan will soon open official negotiations on a new agreement which would not contradict Armenia's membership commitments to the EEU. But he cited no dates for the start and completion of those talks. The new accord that Armenia and the EU will sign will satisfy both sides, the president of the European Council said today in Yerevan.
"The European Union wishes to strengthen cooperation with Armenia in all spheres of mutual interest. At the same time, Armenia has chosen not to make use of the European Union's offer of an Association Agreement including a Deep and Comprehensive Free Trade Agreement. This is a choice that the European Union fully respects. We still stand ready to deepen our relations by working together to open markets and by advancing on democratic reforms, economic growth, regional integration, a better business-investment climate, and sustainable development. In short a broad reform agenda." Tusk said Monday in Yerevan at a joint news briefing with Armenian president Serzh Sarkisian.
Tusk also said some changes should be made to EU-sponsored Eastern Partnership program to make its format comfortable to all involved countries, including Armenia.
"Europe's specialization is to help the neighboring countries, not to impose its proposals and decisions, to not show economic aggression,' said Tusk.
President Sarkisian, in turn, said when the Eastern Partnership was launched it was clear that approaches to member countries should be different.
"We have noted with satisfaction that a differentiated approach to the mutually beneficial cooperation with six countries of the Eastern Partnership was displayed during the Riga summit. We hope for an early start of negotiations on a new document, which will open a new chapter in our relations," Sarkisian said, as quoted by his press service.
The Armenian leader emphasized that Yerevan is interested in further development of relations and long-term constructive dialogue with the European Union, one of its most important partners.
The president of the European Council also referred to the conflict in Nagorno-Karabakh. He said that "recent negative trends are a cause for concern". Tusk added that "The peaceful resolution of this conflict remains a priority for the European Union. The European Union supports the negotiations aimed at settling the conflict led by the OSCE Minsk Group. We support further dialogue between Armenia and Azerbaijan, including at the highest level – at your level Mr. President. It is critical to respect the ceasefire strictly, to exercise restraint on actions and statements, and to create an atmosphere conducive to progress in the conflict settlement."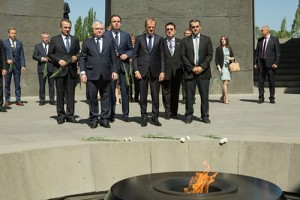 The EU President and Armenian Foreign Minister Edward Nalbandian visited Tsitsernakaberd, the Armenian Genocide memorial, to honor the memory of 1.5 million martyrs of the Armenian Genocide on Monday.
The guests laid wreaths at the memorial, put flowers at the eternal flame and toured the newly renovated Museum-Institute.
Tusk was presented with two books "Armenian Genocide: Front Page Coverage in the World Press" and "100 Photographic Stories about the Armenian Genocide".